The gaming industry is one of the most profitable segments in the entertainment world with a revenue of more than 98 billion dollars worldwide in 2020. Data from a 2021 Newzoo study shows that Latin America (LATAM) is already the fastest growing region for gaming in the world. 
This, however, didn't happen out of the blue. So, in this article, we will see in detail about the experience of growth and innovation faced by the gaming industry in LATAM and especially the mobile gaming segment.
You will find more about what has been drawing Latin Americans attention to gaming as a whole, and to games on smartphones and tablets specifically. We will also show how mobile is changing the way Latin Americans pay and play, along with the reasons why LATAM has been a better place, than even Europe and the United States, in terms of opportunities for the gaming industry.
So, to bring up more about the history of gaming in LATAM, as well as tapping on the current scenario and future perspectives, we have also spoken to Glaucio Marques, from Level Up Games.
Sit back, and get ready to learn how to play in LATAM's gaming industry!
The numbers of this booming market
According to a study from Newzoo the gaming industry continues to grow around the globe, with estimates that by the end of 2021, 3 billion people will be in some way in contact with games. As it can be seen in the chart below, with a revenue of USD 7.2 billion, LATAM's will be the world's gaming market fastest growing region (5.1%), surpassing markets such Middle East and Africa, as well as Asia-Pacific. Meanwhile, regions such as Europe and North-America are shrinking in terms of growth.
Gaming Revenue in LATAM vs. Other Regions, Newzoo
Bearing these numbers in mind, the core point here is: gaming companies must pay attention to LATAM. At the moment, PC and consoles have a market share tof 52% in the region. However, the great phenomenon in the region is mobile.
According to a Newzoo, it is estimated that in LATAM  more than 270 million people could be considered mobile gamers by the end of 2021, which is over 40% of  the entire population in the region, besides accounting for more mobile players than in the US (212 million).
Additionally, while this market as a whole is growing at a rate of 5.1% in the region, the mobile gaming segment is growing at a 12.9% pace, besides already representing almost a half of the total revenue of the gaming industry in LATAM (see the chart below).
Mobile Gaming Revenue in LATAM, Newzoo
One of the main reasons for this mobile phenomenon is the stringent local import legislations in the region for PC Gaming desktops and consoles. Thus, many local consumers use smartphones to have access to this kind of entertainment.
Considering that 58% of the online population in LATAM play mobile games, we can see how much this market can offer in terms of opportunities. The most popular games in the region are titles such as Clash Royal, Free Fire, Call of Duty Mobile. Garena's game, Free Fire, for example, saw its user base in Brazil and Mexico rise in the last few years, with the Battle Royale game becoming the center of some of the most viewed eSports tournaments in the world with more than 1 million simultaneous views in 2020 for the Brazilian Free Fire League finals.
It can be said that eSports in Latin America gained traction in such a way that the fans can be compared to the ones from real sports. Recently many games feature in TV commercials and a whole fashion trend emerged, including appearances in Sao Paulo Fashion Week, with models showing clothes based on new skins from Free Fire characters. Thus, a new audience in LATAM was formed, prepared to consume products related to the games and pro players.


How Latin America's mobile games market emerged
To understand what drives the mobile gaming industry in LATAM it is important to recap the history of the gaming industry in the region. For a period of more or less 20 years, the gaming industry faced some hurdles. The costs on import taxes that forced prices to skyrocket have opened the door for piracy, for example.
However, with the arrival of multinational giants like Microsoft and Sony, followed by Ubisoft and others, the market got investments and these companies focused on localizing their services to shift the perception of gaming in LATAM. Furthermore, especially after the digital revolution in the region, prices started to become more accessible, services and gaming titles began to receive global launches and the consumption of games increased.
Therefore, to give an overview of an actual case of success of a company that has been in the market for almost 20 years, we got insights from Level Up. Owned by Tecent, Level Up games titles have more than 1.5 million active monthly players. Founded in 2002 in the Philippines, the company arrived in LATAM in 2004. So, by bringing new games to the region, it supported the popularization of Asian game titles for local players, starting its operations in Brazil.
Glaucio Marques, CEO of Level Up, explained why the company chose LATAM and more specifically Brazil for their early expansion. According to him, at the beginning the focus of Level UP was in emerging countries, and they chose India and Brazil to start their business besides the Philippines, in the US.
India, even though it is a very populous country with a huge market, had such a different culture that the company didn't achieve the expected success. On the other hand, although in Brazil some challenges had to be overcomed, the company thrived. As stated by Glaucio, Level Up started with 40 employees and has now over 250 collaborators in Brazil, Mexico and Colombia.
The great advantage of Level Up was being one of the pioneers for online games in LATAM. Glaucio reported that the company launched the first MMORPG (massive multiplayer online role-playing game) in the region (Ragnarok online), which was a tremendous success and still very popular. A key challenge, however, was that by 2005 very few people had access to a proper internet connection, and many players had to access games through a dial up connection.
From the last decade onwards, many Latin American players have also started to see an increasing difficulty in acquiring consoles and PC gaming desktops, as it was previously mentioned. During Playstation 5 (the last Sony console model) launch in 2020, for example, four out of the five countries with the most expensive consoles were from LATAM. 
For Glaucio, another main reason why mobile gaming started to boom is the mobile penetration in the region. According to Statista, in 2019 this penetration was 69% with estimates of reaching 73% by  2025. Glaucio highlighted the greatest advantage of this phenomenon: "mobile can have a much larger audience, bringing democratization for the games."
From mobile to cloud games: the future of the gaming industry in LATAM
The future of ecommerce and payments is digital, and this can be also applied for games.  Some experts, however, believe that the revolution on mobile games is about to happen and point to cloud-based gaming.
Cloud-based gaming is basically an online game that runs on remote services and is streamed directly to the user's device, such as a TV or tablet. The key advantage is not depending on a console or computer, nor even on a smartphone.
Glaucio believes that cloud gaming is going to play a pivotal role in the future of the gaming industry: a world without consoles. He stated: "We are still in baby steps toward that, but the reaction from the public has been positively surprising so far. For me, it is a path of no return."
This trend is already happening worldwide, and a huge opportunity is ahead (see the chart below). In LATAM, Xbox Cloud Gaming in Brazil and Mexico was launched last October with games like Fortnite, League of Legends and Among Us, making this gain traction.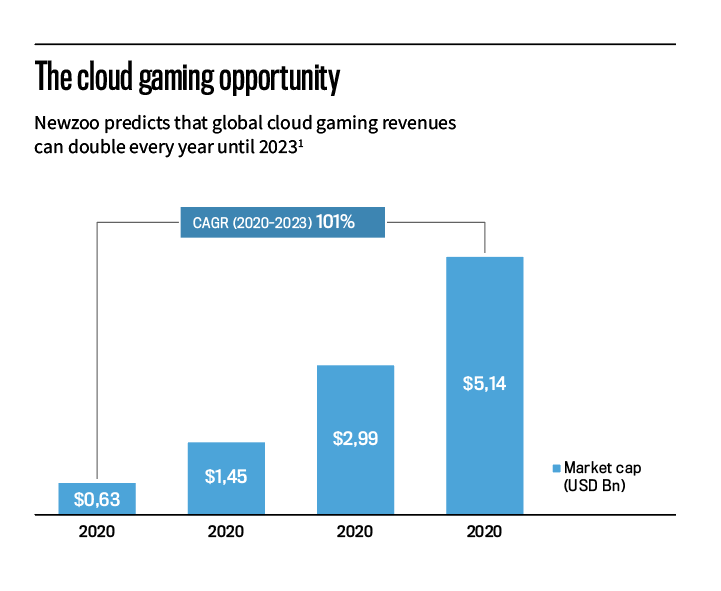 Another key shift in the market will happen through 5G. Glaucio's opinion is that the pandemic accelerated a revolution in the gaming industry. Yet, the 5G will accelerate the industry even more in the next 3 to 5 years, so companies need to be ready and the preparation for it needs to start right now.
In-game currencies are also the most popular virtual goods among LATAM's gamers, and there is a tremendous room for a change in the way Latin Americans are paying for their online gaming products and services. There is an increasing popularity of digital payment methods and large adoption of APMs that are migrating to mobile phones right now but, for the gaming industry, credit cards remain as the main payment method.
Companies must, therefore, look at the future, and start to rely on other methods besides credit cards. Tapping the higher digitized consumer base, eager to use new payments such as digital wallets, prepaid cards (that work as vouchers and are sold in physical stores across the region) and, more recently, PIX (the Brazilian instant payment system), will be crucial.
Again, Glaucio brought an important insight from Level Up's market: "the conversion rates in both digital wallets and PIX are much higher than traditional methods such as credit cards, online banking and even boleto."
Conclusion
Due to the potential of cloud and mobile gaming in LATAM, what we are seeing is just the beginning. The strong mobile penetration and better internet connectivity have increased the democratization of games in LATAM. The market booms in opportunities, and new segments such as cloud-based gaming have the long-term potential to bring the console gaming experience to a halt.
Additionally, the 5G is bringing new perspectives for mobile gaming as a whole, and along with the increasing payments digitization, it is something that has called the attention of the major companies in the market.  So, for businesses that don't direct consumers to APM's, enable a better user experience with the 5G, and follow the market trends, it will certainly be a game over.
Willing to discover new market trends in LATAM and have access to the latest information about the region's e-commerce market and digital payments revolution? Then you can't miss our 2021-2022 Beyond Borders Study!
There you can see more about LATAM's gaming industry and many other markets.
Central America: A guide to expand your business
Unlock your sales potential in Central America: the fastest growing region for e-commerce in LatAm
Related:
Why online gaming is thriving in Latin America
How to reach more gamers and grow even more in Latin America
EBANX solution for gaming in LatAm: how it works
Learn more about the gaming market in Latin America and our solution tailored for gaming companies