Why customer obsession is key in expanding in Latin America
Brazil, Mexico, and Colombia have all seen an influx of international brands recognizing opportunities and the key role of knowing the local consumer.
A Key Part of Expansion
More and more global brands are expanding their businesses in Latin America every year. This is not just unique or limited to a specific country. Brazil, Mexico, and Colombia have all seen an influx of international brands recognizing the opportunity in the region and working to have a presence. Most recently HBO Max announced that it would launch into LatAm in 2021 before Europe. A launch is one thing, but attracting new customers and making your product accessible is another. This starts with better understanding each country's consumers.
Catch up with the latest brands entering the Latin American market in LABS' podcast
It's important to take a step back and ask yourself the same questions you would with any other region's customers. What have you done to invest in getting to know the customers within this new market? Have you done market research? Spoken with an analyst? Have plans to set up a local entity?
Luckily we are laying out some of the key attributes about the Latin American customer that every brand should know to be truly customer obsessed about this new group of consumers.
Get to Know the Latin American Consumer
Of the 30+ different countries that make up LatAm, there are 6 major markets that global brands focus on: Brazil, Mexico, Colombia, Peru, Chile, and Ecuador. Each country has different customs and cultures that influence how the people living there look to make purchases.
As we've touched on before, connectivity is at an all time high. 69% of Latin Americans have Internet access, and this access has had a domino effect on ecommerce. In 2019 cross-border ecommerce sales reached $38 billion and is forecast to grow to $54 billion in 2020. It's clear that the modern Latin American consumer is increasingly looking to shop with global brands.
The streaming industry is largely trending upwards with over 46% of Brazillians and 28% of Mexicans paying for a streaming service subscription. Digital goods as a whole makes up 17% of all online sales in the region, and will only continue to grow.
But beyond the broad industry trends and general habits of the region, it's important to look into the intricacies of each country's consumers and how they look to shop. Get to know the Brazilian, Mexican, and Colombian consumers.
Brazilians – The Super Consumer
With a population more connected to the Internet than ever, Brazil is the fifth-largest Internet and smartphone economy in the world. The region is home to over 49 million e-shoppers looking to keep up with latest trends in technology and retail from around the world.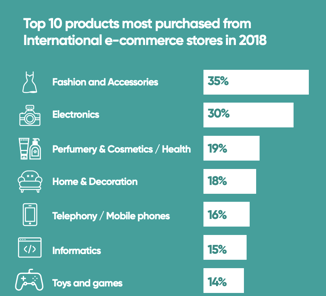 When it comes to e-commerce trust is an essential part of deciding which brand to shop with, especially for international brands. Key actions that brands can do now to build this trust include:
– Website translation – Brazilians speak Portuguese
– Prices displayed in local currency – in this case BRL
– Reviews from other shoppers in their language
– Promotions
Local payment methods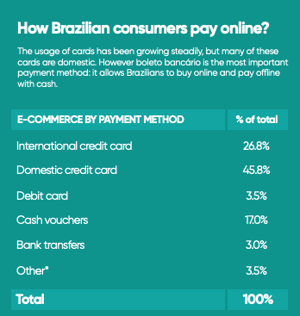 In tangent with technological advances, bankarization numbers are the ones driving consumer behavior. 70% of Brazilians have a bank account and over 45% prefer to pay for purchases with credit cards. When it comes to reaching Brazilian consumers it's important to take note of the payment methods they look to use. Local credit cards, debit cards, and cash vouchers, like Boleto, are all methods they are used to paying with, that many global brands don't accommodate today.
Mexicans – The Loyal Consumer
With the US in close vicinity, Mexican shoppers are more likely to shop cross border than any other country in Latin America. 31% of online purchases were cross-border, compared to Brazil with only 22%. When it comes to why Mexicans are choosing to shop with international brands, better availability of the products they want and appealing offers, top the list.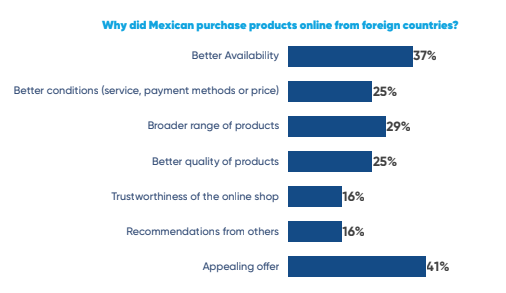 For Mexican consumers convenience is key. 7 out of 10 Mexican made an online purchase in 2018. Receiving orders at home, promotions and discounts, and digital transactions and products are all perks that are appealing to Mexican consumers.
With a growing middle class, and growth of smart phone usage, Mexican consumers look to invest in quality products and brands from names they recognize. The klout of a brand name goes a long way. This could be part as to why international brands are able to create traction in the region faster than other Latin American countries. Additionally consumers look to company websites, search engines, marketplaces, social media, blogs, and recommendations before making a purchase. Brands that invest in localizing these resources will make it even more likely to win the trust and loyalty of Mexican consumers.
Colombians – The Connected Consumer
Colombians truly represent the connected consumer. With the fastest growing online market in Latin America, Colombia's e-commerce market is expected to grow 31% by 2021.
What's important to note about Colombian consumers is how much time is spent researching the products they are buying. 86% use a smartphone to review a product before buying it. It's important for cross-border brands to keep this in mind as they are marketing to Colombians and looking to be competitive with similar products.

The persona of the connected consumer transcends into purchasing habits as well. The most shopped for vertical online includes multi-media products such as, gaming, streaming, and electronics. It is estimated that last year Colombians spent a collective $537 Million on this category alone. This growth is only expected to continue as Colombian spending on app purchases and digital goods increases throughout Q2.
The Impact of COVID-19 on the Latin American Consumer
We are living in a time that has never once been navigated before. Many retail stores are closed. People worldwide are spending more time in their homes than ever before, and unfortunately for some it is at the cost of a lost job. It would be unfair to not acknowledge the impact that COVID-19 has had on consumer habits, and even more specifically in Latin America.
At at surface level, the obvious is clear: online shopping has increased, as has digital consumption. Delivery app Rappi has grown by 300%. Nearly half of small to medium sized businesses are equipping their employees with the resources they need to do their job remotely, by purchasing remote work tools and software services. Streaming in Latin America has seen a 32% increase since the stay at home orders began, with brands like Netflix, Spotify and Twitch reporting increased usage.
Despite the growth in digital spending comes the harsh reality that 23% of Brazilians are out of work. While it may be too soon to make new market projections as to how this will impact each vertical in the long run, it's important to monitor this activity to best accommodate the unique circumstance each country is in.
Top keep up with the latest consumer and business updates in Latin America surrounding COVID-19, subscribe to LABS weekly coronavirus coverage newsletter here. Additionally we've included EBANX best practices for communicating with your Latin American consumers during this time, below.
What's keeping global brands from being customer obsessed in LatAm
Just like you build out customer personas for your US customers, the same is essential for your Latin American customers by each country. However it's important to not just lump all of your Latin American customers under one persona, or under one language strategy. Each takes a custom approach.
For many brands navigating the Latin American market, it can be challenging to know where to begin, and easy to leverage approaches that have worked in other foreign markets. Latin American consumers are ready to shop with international brands, and it's essential for brands to invest the resources into localizing strategies, running custom promotions, and implementing the payment methods each country's consumers use.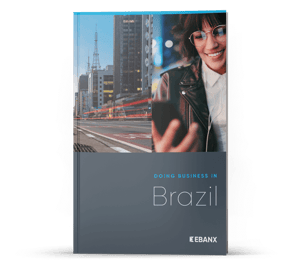 Download now
For more insights on the consumer landscape in Latin America check out the resources below, and our doing business guides for each country.
If you have any questions about the Latin American market, or would like to speak to a Latin America specialist about expanding, you can reach us here.
White Paper: Digital Wallets in Mexico
See our analysis about Digital Wallets in Mexico and how to offer it as a payment option there