What's driving e-commerce growth in Latin America?
In less than 20 years, 56.6% of Latin Americans gained access to the internet, smartphones popularized, the middle class grew and its needs changed.
In the year 2000, internet penetration in Latin America was in the single digits, hardly reaching 3% of the population. In less than two decades, 56.6% of its population has gained access to the world wide web. Despite the existence of a substantial variation in the internet penetration across countries in the region, Latin America's total population connected to the internet represents more than 10% of the internet users in the planet.
The internet has certainly become a disruptive force that empowered Latin Americans and revolutionized the market in a number of ways, laying the first stone for ecommerce, which is acting as a catalyst for urgently needed innovation and technological development, an area where Latin America lags behind other regions of the world.
An expanding middle class with an increasingly sophisticated taste.
Today Latin America is home to 600M people. The booming economies in the region have taken decisive steps to shrink the income gap and pushed over 70 million people out of poverty in the past decade –  a population larger than that of the United Kingdom.  At the same time, Latin America has been adding more citizens to its pool of middle-income earners at a faster pace than other regions in the world, expanding its middle class by 50% since the past decade.
Today the middle class accounts for one third of the population, totaling more than 200 million people. This new middle class is an avid user of the internet, its consumption needs keep increasing in sophistication and remain unsatisfied by the local supply of goods and services, hence, turning to a more diverse global supply of goods & services via ecommerce.
Latin America poised for ecommerce
Ecommerce still represents a small fraction of the total retail sales in LatAm but it is expected to keep growing as its ecommerce conditions continue to improve. Ecommerce sales grew almost 35% in 2020 in Latin America. Forecasts point out to that this grow will continue and in 2025 a total of USD 160 billion in sales will be achieved. As digital audiences continue to grow, and improvements to ecommerce payments system and shipping are made, this trend will never stops.
Retail e-commerce sales in Latin America from 2019 to 2025 (in billion U.S. dollars)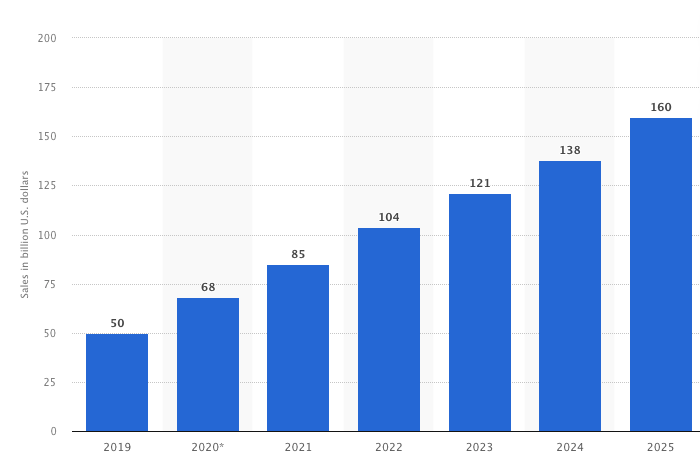 Source: Statista
Non-banking institutions take the spotlight.
Latin America is a region where the banking sector roots penetrate deep into the economy, but not as deep to reach the lowest income population. A decade ago, non-bank issued electronic money was unthinkable. Traditionally, in Latin America, money is an exclusive business of banks. An idea perpetuated by regulatory agencies until recently, resulting in large financial exclusion across the region.
Banked population in Latin America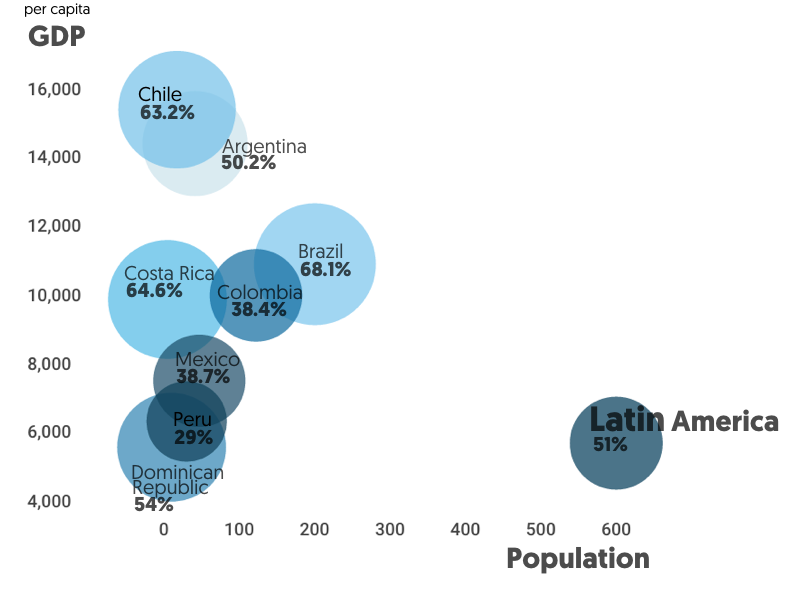 The latest report from the World Bank reveals that the banked population of Latin America grew to 51% in 2014 from 39% in 2011, a significant increase, but only in 5 countries the banked population is at least 50%.
Non-banking institutions providing financial services.
Many of the innovations emerging in Latin America stem from non-bank startups providing financial services like ewallets, credit cards and prepaid cards, taking advantage of the high demand for eMoney services and a growing connectivity from mobiles and desktops.
Startups like EBANX are a key component in the development of new financial technologies. The combination of our lean, nimble operating model and a can-do attitude allows us to see opportunities and act on them more quickly than traditional banking institutions. Being able to offer an array of payment methods to serve the underbanked eShoppers across Latin America as well as global merchants who want to expand their ecommerce reaching a wider audience.
Latin America is Mobile-First.
Although advanced economies boast much higher smartphone and mobile internet penetration rates, latinos are well ahead of their wealthier counterparts in using their handset to shop.  Latinos are mainly mobile-first, meaning that the mobile handset is the first web-enabled device accessed by consumers. The importance of a mobile phone is often a necessity rather than a choice. Laptops and PCs are simply found in fewer homes.
Since 2015 the number of smartphones overcame the number of computers in the region. There are some countries now where the mobile penetration is greater than 100%, which means more than 1 phone per person! What is even more interesting is that, according to EBANX Beyond Borders Research, the number purchases made on smartphones surpassed the desktop in the region for the first time in 2020. This represented a remarkable revolution for Latin America's ecommerce.
Colombia, Peru, Paraguay, Mexico & Bolivia – The highest mobile shares on e-commerce sales

In Brazil, 59% of ecommerce sales are done from a mobile phone.
The Beyond Borders Study showed that from 15 economies in the region, almost 60% of LatAm's e-commerce total volume can be paid through cell phones in 2021 – a 46% increase compared to 2020, when the mobile share reached 55%. For further comparison, in 2019, the mobile share was 44%, and in 2018, only 39%.
Colombia, Peru, Chile, Paraguay, Mexico and Bolivia occupies the top 5 among the countries with the greatest mobile shares on ecommerce, although, in Bolivia's case, for example, the unbanked population reach 54%. Another interesting insight is that in Colombia (133%), Peru (132%), Paraguay (110%), and even Bolivia (101%), mobile subscriptions surpass 100%.
Extra
Looking for a complete overview of what has been happening in Latin America's ecommece? Then you can't miss our notable annual study: Beyond Borders 2021 | 2022: ​​How digital payments and e-commerce are gaining traction in Latin America.
White Paper: Digital Wallets in Mexico
See our analysis about Digital Wallets in Mexico and how to offer it as a payment option there