What are digital goods and how to sell its products on Shopify
From streaming services, to e-books and online teachers. Discover all types of digital services and how to sell them properly.
With the pandemic of COVID-19, people all over the world faced quarantine at some point in 2020. Staying at home, the use of technology rocketed, and this trend continues until nowadays. Thus,  shopping online is a common habit. 
Digital products (also called Digital Goods) are one thing that became even more popular with everyone stuck inside of their house. Streaming services and eBooks became extremely necessary. Probably, the pandemic changed how we consume, and digital goods are here to stay.
What are digital products?
You may not know, but you already consumed a digital product before. Or you can be consuming one right now. For example, if you're reading this listening to music on a streaming service, you're consuming digital goods.
Non-physical products that only exist on digital devices are getting more popular as technology progresses, especially nowadays. One of the reasons is the comfort of on-line shopping combined with the consumer needs. It's easier to buy a digital copy of your book and start reading it right away from your couch than buying and waiting for it to arrive.
Entrepreneurs benefit from this too. These digital products can be created once (edited if needed) and sold repeatedly. It's simple to launch and distribute. The margin of profit is very high due to no need for inventory costs or shipping. They are often distributed in the form of files such as PDFs, PNGs, JPEGs, MP3s, videos, plug-ins and more. They can be downloaded or streamed – depending on which platform you're selling it – and therefore digital goods are more sustainable than the physical ones. 
If you are already providing a product on your website and it's a physical one, you can start selling on the same website a digital version of it (or something that complements it).  This way you can engage your existing consumers and attract new ones. Digital goods are here to stay, so if you want your business to grow (or start), the digital world is a place you should get acquainted with.
Types of Digital Products and services to sell online
Think about digital products as something shareable. What do you have that can be shared online? Everything can potentially make money on the digital world: your talent, knowledge or opinion. Below are some ideas that can inspire you.
1. Audio
Music is one of the most popular digital products that exist. They can be sold, but more often streamed on present days. But, it's not only music that can be sold online. People search for inspiration, opinions, information. You can record lectures or foreign language lessons. Audiobooks are also very popular. Some people search for relaxing noises for meditation or to help them sleep. Audio guides can be very interesting too.
2. Video
Some people prefer not only to listen, but to watch it too. You can sell workout lessons that you can do at home. Tutorials on a more specific subject, for example "How to use Photoshop" or some other software. It can be educational or informative. Some information are more interesting if you see images and videos of it too. So, if you already have a product that is only on audio or text, why don't transform them into videos?
3. Text
It's very common to talk about eBooks because they are extremely popular on the digital world. You can share stories, educate on a topic of you expertise, make tutorials on how to do something you know and so forth. If you already have written a book, you can transform it into a PDF and start selling it online. Yet, you don't necessarily need to write a book to do so. Documents, files, guides, manuals come on text form too, and there are people searching for them. Articles and content are very valuable on the digital era. Think about selling them too.
4. Images
Bloggers and website owners need high quality images to illustrate their content more than ever. Professional photographers or digital artists can be very successful in the digital goods business because of that. You already have platforms to sell your photos, drawings, sketches and finished pieces and probably you have an online portfolio if you do so. So, why not create a website where you can show your portfolio and sell your craft? The advantages are countless, but the main one is that you can sell for how much you want to sell on your own page. A beautiful website to showcase your work that provide consumers the opportunity to buy on the same place is surely an extra.
5. Software
The software industry is gigantic and continues to grow. Desktop software, plugins, mobile applications, web-based apps, video games, website templates and everything that is powered by code is extremely popular on the digital world. If you have a good idea for a software and know how to write a code language (JavaScript, Swift, SQL, PHP, Python, etc) you can develop not only a good product, but also make some money.
6. Professional services
You don't need to specifically create a product to sell. You can offer your professional service instead. A lot of people prefer to do things at the comfort of their home, and you can benefit from that. Foreign language courses, workout classes online and cooking lessons can be very popular. But, you can also offer your service as a graphic designer too. For example, a lot of people are digitalizing their business and need logos or visual communication for them. A lot of professionals, nowadays, are starting to jump into this business and here's some of the many professions that can provide online services:
• Teachers

• Trainers

• Coaches

• Designers

• Developers

• Translators

• Writers

• Consultants

 
Selling digital products on Shopify
Now that you decided what is the digital good you're going to share with the world, it's time to set up your website (or update it) on Shopify. 
But what is Shopify?
Shopify is a platform where anyone can set up an online store and sell their products. 
After you built your eCommerce website, you can put up all of your products. However, for your digital goods you have to download an app developed by Shopify to help you even more to manage your sales.
Digital Downloads is an app that helps you upload your digital products into your website. The customers get a direct download and an emailed link after checkout, and if you have any updates on your file, your customers will get an updated link to have access to it. And remember to disable the shipping option for your digital products! The shipping is the access to the download link. If you need more help doing that, you can check the Shopify Manual page for Digital Products and Services.
Some useful tips
Always keep in mind that online everything can probably be found for free. In other words, you're competing with free content. So make your product worth of consumers attention. Something that's so unique, helpful and useful that they won't find elsewhere easily. Make sure to build your brand to connect with your audience, this way they'll engage with your content. 
Online you're at risk of piracy. You have to be careful and reduce risks of being a victim. Make sure to look for the right tools to protect your products.
Shopify has an app store where you can find the perfect tools for your business.
Remember to let your clients know that they are buying a digital product. Invest in good descriptions for them. If you give a good description of what it is, with images to illustrate it, the chances of the consumer buying it are even higher. Whenever the product is more elaborate than usual, think about putting a manual or tutorial to explain how it works and how to take the best advantage of it. This way you can build clients' trust and the possibility of them buying again from you is great. 
When setting up an online business in Shopify, one of the first things you have to deal with is how you will process payments in your online store. To make it easier for you, we've written an e-book gathering the most common mistakes many merchants make when choosing a payment gateway in Shopify.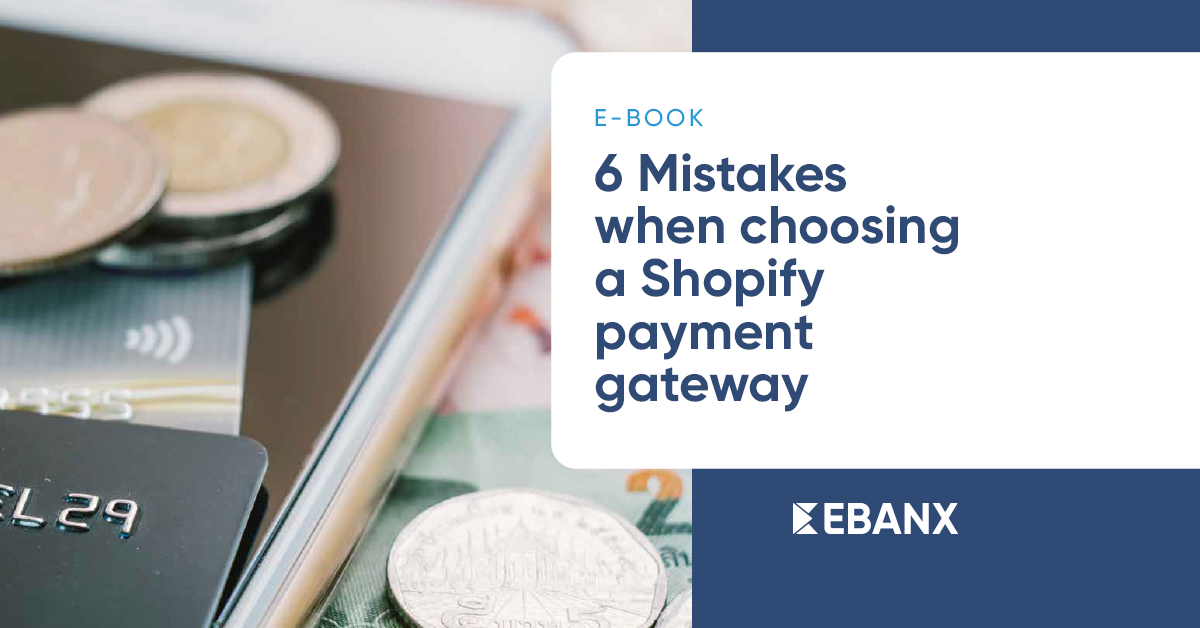 Our annual study is out! Beyond Borders 2022-2023
Beyond Borders 2022-2023: How digital payments and e‑commerce are gaining traction in Latin America