The ultimate 2022 e-commerce holiday marketing calendar for Latin America
Do you want to maximize your sales in Latin America? If so, read on and learn about the e-commerce marketing calendar in the region.
Do you plan to embark on your e-Commerce voyage in Latin America? Do you want to make it big and generate maximum sales for your brand in the region? If that is so, you should be aware of all the e-Commerce holidays in Latin America and how you can use these days to flourish in the local e-Commerce landscape. Read on to learn everything you need to know about the e-Commerce Holiday marketing calendar for Latin America. You will also get to know about what you can do to capitalize on these golden opportunities and generate more sales.
EBANX Holiday Calendar provides an outline of Key Dates for E-Commerce in Brazil that you ought to know to help you plan your annual strategy in the country. Download now!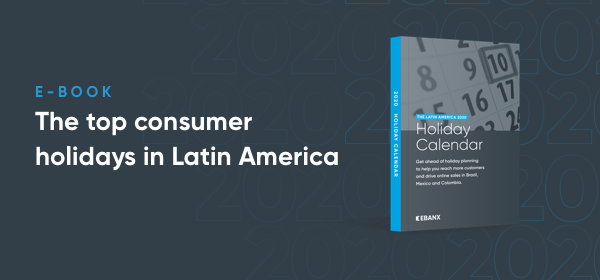 Why Are Promotions Important
To ensure your e-Commerce brand does well and generates the maximum number of online sales, you should promote your products as much as possible. Although e-Commerce promotions are common and crucial worldwide, this practice is particularly important if you want to sell to Latin American consumers. In fact, when eCommerce holidays are near in this region, product promotions become the primary focus of most online merchants. Online promotions help you to reach out to a wider audience and generate more sales. Social media is a great tool you can use here. By leveraging platforms such as Facebook, Instagram, and Twitter for your product promotions, you are able to tap into more markets. That, as a result, leads to more sales and revenue for your online business.
Online Shopping Events and Holidays in Latin America
The following are the most popular online shopping events and holidays in Latin American countries. You need to be privy to the dates of these events so that you can prepare accordingly. This preparation will ensure your e-Commerce store is ready to target the Latin American customers when these shopping dates are upon you!
Cyber Monday/Black Friday
Cyber Monday and Black Friday are the two most important dates in the landscape of online shopping events in Latin America. These dates are vital for online retailers to get just right if they are targeting consumers in the Latin American region. These dates have an association with and follow the United States Thanksgiving celebration on the 4th Thursday of November. However, there are Latin American nations that tend to take a different approach.
For instance, in Mexico, the most crucial online sales event is what the locals call El Buen Fin. This event takes place in November's third weekend, and in 2022, it will happen November 18th.
Children's Day
Children's day is another holiday that has great significance in Latin America. However, people do not officially celebrate it in the United States of America. Children's day in Latin America is a day for every parent to spoil their kids with toys and other gifts. However, the date differs; in Mexico, it is 30th April, and in Brazil, it is 12th October. Furthermore, in Argentina, it is the 3rd Sunday in August, and in Colombia, it is the last Saturday falling in April.
Double Eleven (Chinese Festival)
The double eleven event is undoubtedly one of the biggest online shopping events in the Latin American region. Although this festival originated in China, it has become very popular in Latin America lately. Like everywhere else in the world, it is celebrated on the 11th of November (hence the double eleven!) every year. Double 11 also generates millions of dollars on several eCommerce platforms. If you are an online brand or company targeting customers in Latin America, you definitely do not want to miss this date!
Father's Day
When you talk about holidays in Latin America, Father's day is another important one. This day generates a tremendous amount of online sales in the region's eCommerce market!
People celebrate Father's Day in the United States of America every year on the 3rd Sunday that falls in the month of June. It is the very same date for Argentina, Colombia, and Ecuador in Latin America. For Brazil, however, Father's Day falls on the 2nd Sunday of August. The next year in 2022, the holiday is going to fall on 14th August.
Christmas
Christmas is one of the most profitable times for ecommerce in Latin America. Christmas is one of the seasonal dates with the biggest impact on the number of sales. Unlike other celebratory days, such as children's day, where the best-selling categories are quite limited, Christmas has a considerable increase in all sectors.
How and When to Start Preparing to Make the Most of These Dates
There are pivotal things to know if you want to leverage the aforementioned great opportunities in Latin America. Knowing these things will also help you drive the maximum number of sales in this region. Countries in Latin America are not just different from those in the USA; they are also quite different from one another. Hence, if you are an online retailer, brand, or entrepreneur looking to sell to consumers in the Latin American region, do your research. You do this by comprehensively analyzing every individual market (Brazil, Ecuador, Argentina, etc.). In addition, you should prepare product inventory in advance and make a detailed logistics and supply chain plan for delivery.
Moreover, it is important to test your websites' stability and promote it extensively via social media platforms (such as Facebook, Instagram, etc.). Furthermore, you need to ensure that you accept all the methods of local payment prevalent in all Latin American markets. In this regard, pay particular attention to those markets you are aiming to target. Most online sellers who seek to sell in Latin America want to know the ideal time to prepare for these dates. Keep in mind that the sooner you begin, the better it is for you! It is essential to think a couple of months in advance (3-4 ideally) of the online event date you are preparing yourself for. Planning in advance provides you adequate time to prepare the logistics solution you will utilize, product stock, etc.
When you deliver international merchandise from the USA to an address in the Latin American region, it can take around 3 weeks at times. For example, consider most Latin American individuals who do online shopping on the Double 11 Chinese festival, keeping in mind the Christmas season. Here, you should prepare in advance to ensure you have the product inventory locally stored already. It helps ensure that you can efficiently deliver the products to customers punctually for when they expect and require them.
This needs effective inventory management from your side. You should also precisely know which are the most revenue generating products for every seasonal date you plan to sell for.
Thus, you should plan ahead and make a note of the key differences between these important dates. When you do that, the chances of your transition into the eCommerce market of Latin America go way up!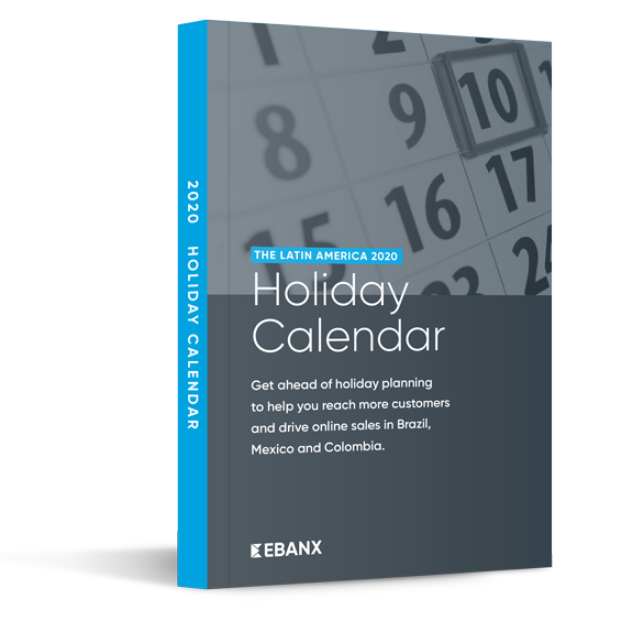 How to Attract and Retain Cross-border Shoppers
Do you want to take full advantage of holidays in Latin America such as the Chinese festival, Black Friday, and so forth? If that is so, it is important that you are able to attract and retain cross border Latin American shoppers. These shoppers are in addition to those you are targeting in your primary market in Latin America. The following are some of the most effective ways you can reach out to draw these cross-border shoppers.
Offering Strategic Discounts
Providing strategic discounts to cross border shoppers in Latin America is an excellent way to broaden your customer base. It will also help you to generate more online sales.
For example, say you are targeting the Black Friday season in Brazil for your product launch online. In this case, you can offer lucrative discounts for the same product in Colombia as well. That would help you to draw customers from that market as well, who would be eager to purchase your discounted products. Consider selling certain deals and items that are not readily available in Colombia. That would help you further to broaden your reach among consumers in this market.
You can heavily promote and advertise these discounts and items on social media platforms. That would enable you to cast your net wider. In order to retain these customers, you might have to offer such discounts from time to time. However, it would be worth it since you will be efficiently leveraging the holidays in Latin America, amplifying your sales margins considerably.
Provide Terrific Customer Support
Providing excellent customer support is definitely one of the best ways to retain cross border shoppers. This is regardless of what date you are targeting in Latin America (Double 11, Black Friday, Children's day, etc.). Online Shoppers like to have all their questions answered as well as any other issues dealt with as soon as possible. In order to accomplish this, you need to provide unparalleled customer support 24/7 so that your customers have no reason to complain. When you provide such exceptional service, you will see that the cross border shoppers will keep coming back to you. As a result, your online sales will constantly be high, and you will generate more revenue.
eCommerce Success in Latin America: Key Considerations You Need to Make
Regardless of which Latin American eCommerce market you are targeting, there are certain critical considerations you have to make. This is important if you want to sell successfully via your online store to consumers based in Latin American countries. To that end, the following are some of the important factors you need to consider.
Enabling all Methods of Local Payments apart from Credit Cards
For the majority of online retailers, e-merchants, and other brands, credit card networks (international) are the preferred payment solution. This is an effective approach in North American and European eCommerce markets. In these markets, most of the online customers have credit cards enabled for international purchases and often use them for online shopping.
However, when you talk about the eCommerce landscape in the Latin American region, just 1 out of 3 customers own a credit card. Furthermore, even individuals who own a credit card may not be able to buy from international online brand sites such as yours. That is because, in the Latin American nations like Argentina and Brazil, the banking authorities have only enabled credit cards for domestic usage.
You can just address a minor segment of your consumers if you only provide the credit card option for the Latin American buyers. Hence, it is imperative to enable local payment methods (apart from credit cards, like debit cards, voucher payments, bank transfer, and more) consumers often use in Latin American markets. In this way, more people can buy from you, and that will help you generate greater revenue.
Make use of a Local Language Website
In order to taste eCommerce success in Latin America, localizing your brand website is of paramount importance. It is vital to adapt your e-store to the shopping preferences and local languages in Latin America. Say, for example, you are targeting the Brazilian market consumers in Latin America and have a brand website in the English language. In this case, you are most likely to receive very unsurprising results: maximum rates of cart abandonment and low conversion rates. This will end up frustrating you immensely.
Therefore, you need to make use of a local language website that aligns with your target market. You require a website in Portuguese if you wish to sell online in Brazil, as that is the language most locals speak.
Design your payment and checkout procedure in a manner potential customers will be familiar with for every different market in Latin America. That includes vital consumer details that you need, all prices in local currencies, and checkout flow.
Enable Installments for Payments
Latin American customers are incredibly fond of installments, and that extends to purchases made online as well on eCommerce holidays.
Unlock the power of installments in Latin America
Spreading the payments for purchases over numerous installments happens to be a prevalent practice in Latin America (both online and offline). This is particularly true for expensive items that customers understandably prefer to pay for over several installments rather than at one go! In fact, consumers in Mexico and Brazil make more than half of their eCommerce purchases by utilizing installment plans.
Such installments for online payments assist in increasing purchasing power). They also enable you to target and sell to a broader customer base as an online retailer or brand. Some online merchants selling in Latin America have witnessed their total volume of sales increase by 100 percent after enabling installments. You can taste the same success by making use of this strategy!
Keep in mind, though, that you will require a local partner who has local experience if you want to enable payments. Such a partner will be able to connect you to all the pertinent personnel.
Think Mobile
It is pivotal to know that most online purchases made in Latin America are via mobile devices. Hence, it is wise to ensure your brand's website is compatible with small screens so you can cater to all customers.
Wrapping It Up
To conclude, you need to be proactive and prepare yourself in advance. That would ensure your online brand or eCommerce store will drive phenomenal results for you during key eCommerce holidays in Latin America. In fact, if you are able to retain your customers during these holidays, you can taste paramount success throughout the year. Just be sure to do your research and due diligence, and you will see your efforts bear fruit later on!
Extra
You can read more about the tactics to maximize your sales in Latin America on our EBANX blog.
Don't want to miss another holiday sales uptick? Get ahead of upcoming holidays in 2022 and position your checkout and Latin America strategy well in the new year. Let's talk.
White Paper: Digital Wallets in Mexico
See our analysis about Digital Wallets in Mexico and how to offer it as a payment option there