You want to use Shopify, but you don't quite know the best payment providers for Mexico? Are you also interested in adding the OXXO services to your online dropshipping store, but you have a few questions? Well, don't worry because we established an easy guide that will briefly describe OXXO and the benefits of using it for your dropshipping store.
What is OXXO?
The very first question that we need to address is what actually presents OXXO payment?
OXXO payment is a pretty popular voucher option used for online purchases in Mexico and that allows people to pay the amount offline. With the use of the OXXO voucher invoice (a document that has a barcode emerged on it), you can pay in all of the convenience stores that are in Mexico. This is a pretty big trend and it is a great payment option when you're online shopping or just to pay your bills and taxes. You surely heard of the payment methods such as Boleto in Brazil, well OXXO is pretty much the same but the difference is that you can use it only in Mexico.
Note: Mexico is a country that enjoys doing their paying with vouchers for any type of purchase online. And even if they do have several credit cards, bank accounts, etc, over 40% of the customers are looking for stores that offer vouchers as a payment method. This is something that is quite interesting and barely anyone knows. So if you're selling online especially in Mexico then your best and the most intelligent option is to go ahead and use OXXO payments.
Extra content: What is the meaning of OXXO?
Can you use Shopify in Mexico?
Yes, you can. With the fintech company EBANX coming in place to provide payment solutions to all the territory in Latin America, it allowed the drop shippers from Mexico to safely and easily accept payments through all the payment methods such as credit cards, vouchers, etc.
The partnership between EBANX and Shopify is constantly growing and there are a lot of updates that are in progress and they will still continue to improve. With the use of EBANX, drop shippers can sell to Mexican customers with just a few steps.
So to start using Shopify in Mexico, the only thing that you need to do is to go ahead on their official site, enter all the basic information (name, birth date, e-mail, etc), create your eCommerce store, and finally once you're done with setting up all the products and the design of the store go to payment options and select EBANX as a payment provider. And with that, you are done and the only thing that you need to do now is to get customers to buy your products. Shopify Mexico allows all drop shippers 24/7 constant help so if you have any other questions just go ahead and ask them.
The benefits of providing OXXO when dropshipping
Adding OXXO payment as an option for your dropshipping store will help you a lot in advancing your e-commerce business. So let's go through 3 of the main benefits:
Increase your sales
We mentioned that almost 40% of the people in Mexico tend to use a payment voucher as payment options. And when using OXXO payment you are allowing them to do that. In 2020, OXXO payments represented over $6B USD, and that represents over 20% of all the payments made online from Mexico, which is a big number. So when you accept OXXO in your e-commerce store, you are actually creating a chance of increasing your sales up to 20% and even more. This can drastically change your business and it can help it in upgrading.
Many businesses say that before they had OXXO payment as an option a lot of people were coming to the checkout page and saw that the business only had credit cards, they were too afraid to enter their info and they just quit the website. So by using this option you are building trust with your customers and you can get more sales in return.
A voucher that is customize by EBANX
Another feature that OXXO payment offers to its customers is a voucher that is fully customized by EBANX. The voucher is pretty responsive and well designed counting with email reminders that will help you in increasing the conversion rates that you have in your store. With the OXXO voucher, you are gaining and you have nothing to lose.
Security
One of the main things that a lot of people are looking for is security and safety. OXXO is a 100% secure option and that is why Mexican customers are safely buying from the website. OXXO is a free risk payment method and that builds up confidence for both of the customers and the seller.
How OXXO payment works
Now that we discussed all the basic info about OXXO payment, let's proceed with learning how OXXO works for your e-commerce store. So let's make it into a 4 step procedure.
1. Firstly when the customers decide to buy your product and proceed to checkout, they should go ahead and choose the OXXO option. That means that they chose to buy the product using the voucher option;
2. Then they will get a voucher from OXXO that will have all of the information on it so that they can complete their order;
3. The customer then needs to go ahead to the closest convenience store and provide the voucher to the store, they will scan it and tell them the total price they need to pay, and to help your customer with that, EBANX provides a geolocalization feature so they can find the nearest OXXO store to pay the voucher;
4. Once the payment is confirmed, which can take up 1 business day, the customer will get a notification on their email with the confirmation at the same time as your store so you can ship them the product.
This is quite an easy and safe procedure and that is why a lot of the consumers in Mexico tend to pay with vouchers.
Dealing with Refunds
If your customer is unsatisfied with your product or something happens with the goods or service, they can ask for a refund getting in touch with your store or directly with EBANX.
How to accept OXXO payment on Shopify using EBANX?
Since you know all of this information and all the benefits of using OXXO payment, you might be interested in setting up OXXO payment for your eCommerce store as soon as possible. Well, if you don't know how to, don't worry. We will show you it is actually pretty easy and everyone can do it. So let's go through all of the steps!
Step #1
To begin with, you first need to have a Shopify account as well as a store and products set up. If you have that, go ahead and click this link. With just one click this will automatically enable the option to checkout via EBANX at your Shopify, and all the payment methods will automatically update.
Step #2
Go to your Shopify administrative panel and click on the tab named "Settings" then go ahead and pick "Payment Providers" then you will notice something will pop up called "Choose: alternative payment option", you just click over it.
Step #3
Then go ahead and find the following "Checkout via EBANX" payment gateway and select it by clicking directly on it.
Step #4
The next thing that you need to do is to get your EBANX Shopify Key, as well as your Public Integration Key. You can get them at the Integration section of your EBANX Dashboard. If you are not integrated with EBANX yet, you can talk to our specialists.
Step#5
The last thing that you need to do is to go at the "Settings" section and then proceed on "Checkout" and set your for as per the guide we will provide you with. When you are done be sure to go ahead and click the "Save" button at least once.
Step#6
And, at the end, to make sure that all of the options are working be sure that you go to your store and go through the purchase flow so that you can see if the EBANX appears on the checkout section. If there are any additional problems just go ahead and contact integration@ebanx.com for customer support.
Accept OXXO Payments
Now that you set up the EBANX procedure if you want to set up OXXO payments you need to go ahead and firstly register. You need to fill out some basic information about yourself and about the store and then they will tell you how to integrate it with your Shopify is quite easy and you can do it in a few minutes.
How to accept OXXO payment on WooCommerce?
So you have a WooCommerce store and you are in interest in setting up OXXO payment for your store? This can be pretty easy and it is only a few clicks.
The only thing that you need to do is to go ahead and install the EBANX Plugin to your WooCommerce store.
Once you have the EBANX plugin installed, then you are available to accept all the payment methods in Latin America especially in Mexico. By doing that, you can again go ahead and register for OXXO payment as well.
Features
– Automatic e-mail process for sending the customer's receipt
– Detailed report about your revenue
– Easy integration and configuration
How to accept OXXO payment on Magento?
You can accept OXXO payments on the Magento store by downloading the simple plugin. You can go ahead and create the orders without needing to leave the Magento services. It has an easy integration that doesn't require any tech skills.
At the end
OXXO payment is a great payment option that you should consider having integrated into your store if you are a seller in Latin America, especially in Mexico. Because people are still afraid of putting their card information online, since there can have some scammers, they feel way safer to pay on the store using a smile voucher. By doing that, you are building trust with your customers and next time they might even buy from you using a credit card. Finally, if you still aren't convinced, here is some information that will surely change your mind:
How do Latin Americans pay?
30% of all ecommerce purchases are made with Boleto Bancario in Brazil.
48% of online shoppers used an offline method to pay for purchases in Mexico.
70% of online shopping is made with local payment options in Argentina.
As you can see over 48% of the online shoppers in Mexico used some type of offline method so that they can buy online. Don't miss out on any more buyers and start accepting voucher payments with EBANX.
We advise you that you register for OXXO payment as soon as possible because it can help your business drastically and can grow your revenue. With the EBANX Dashboard, you can track your orders and see all the statistics you need so that you can control the growth of your online e-commerce business.
Are you ready to start offering OXXO at your business? Come with us!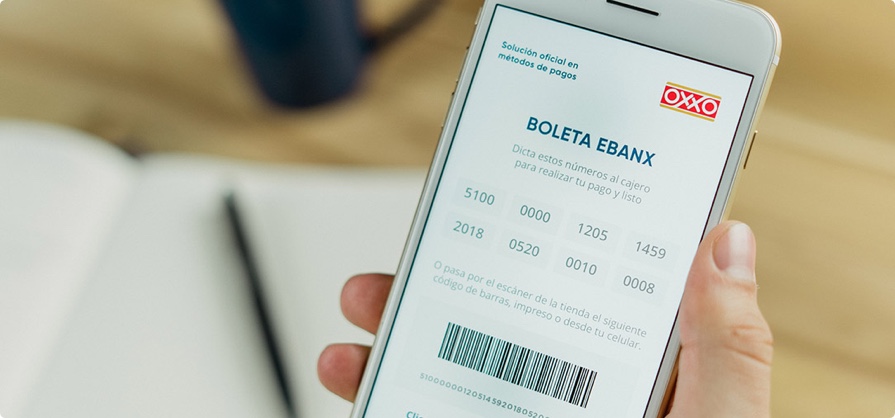 Mexico - Payments & Market
It is never too late to learn about the online Mexican market and its payment trends. Check it out!