The 2021 holiday shopping outlook for Latin America
Learn more about what global brands can expect from the biggest shopping season in Brazil, Mexico and Colombia for 2021.
What global brands can expect from the biggest shopping season in Brazil, Mexico and Colombia
Across the world, the last three months of the year are typically some of the biggest sales months across a variety of industries. However given the circumstances of 2020, the playbook and forecasting for many major sales holidays and industry growth have strayed from their projections or evolved in ways that were unaccounted for previously.
We've mapped out the state of the holiday shopping season in Latin America this year, and mapped out what you can expect from your customers in this region, and more so what you can do now to better reach them in the last two months of the year.
What will be different this year
Nothing about 2020 has been typical and has largely thrown planning and forecasting out the door. Brands have been forced to think of new and innovative ways to connect with their consumers from their homes. This mindset will continue into the holiday season, as the big focus for this year will be how brands can make the most out of their digital stores.
Experts expect the number of shoppers making purchases in typical brick and mortar or other physical settings to drop, and an increase in online shopping throughout the season. eCommerce has experienced massive growth throughout the region, due to the influence of COVID. 13% of Brazilians are new first time e-commerce shoppers since the start of the pandemic.
In general, holidays like Singles Day and Black Friday are still expected to grow, despite the impact of the pandemic. While it's unclear exactly what these numbers will look like, we can expect the amount spent online to go up compared to the previous year.
Rather than select days dedicated to deals and promotions, there will be more of a shopping season. Deals that were once relative to a particular date will now rollout the weeks before and rollover to the following week.
The Major Shopping Days to add to your calendar
In looking to understand the holiday shopping landscape for Latin America it's important to take note of the major shopping days in each country. While holidays like Black Friday, and general Christmas shopping are pretty universal across the world, there are several dates worth taking note of.
Double 11 2021 – November 11
Double eleven is a shopping holiday that is widely celebrated in Brazil and Mexico, every November 11, and more commonly known as Singles Day. Over the past few years this shopping holiday has grown in popularity around the world, and especially in Latin America. Last year the holiday registered over $38.4 billion USD in sales. Customers expect pre-black friday holiday discounts and the opportunity to treat themselves to global products they love.
El Buen Fin & Cyberday 
El Buen Fin is a local initiative to stimulate e-commerce in Mexico. In 2019 the holiday generated $11 billion MX in sales. It's important to note that in general, international stores cannot take part and use the official name. However, Mexican consumers have become accustomed to big deals during this time and ready to shop. Take advantage of this and create your own promotion, offer discounts and advertise it without using the official event name or logo.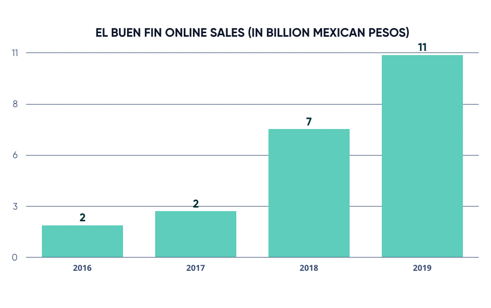 Black Friday 2021 – November 26
Despite the fact that Black Friday coincides with the American holiday of Thanksgiving, the major shopping weekend has become globally recognized and celebrated. In 2019 Brazil saw over $3.9 billion in online sales. This is the best selling date in Brazil.
Cyber Monday 2021 – November 29
Customers are not expecting the deals to stop after Black Friday. Given the boost in online shopping this year, Cyber Monday is expected to be bigger than ever with a large portion of consumers turning to online shopping over brick and mortar.
Key cultural factors to take into account
Differing seasons
While the holiday season is typically associated with cold weather, sweaters, and an overall cozy aesthetic, in Latin America this is the exact opposite. For countries like Brazil, Uruguay, Argentina, and other countries south of the equator, it is summer time. Christmas and New Years often kicks off the summer break holiday, and people flock to the beaches for vacation. This is important to keep in mind as you determine the holiday promotions you will run, and the types of marketing for each market. Meaning you might want to rethink your ads marketing sweaters in December, and consider swimwear or summer clothing.
13th paycheck
Brazilians aren't just spending more because of the holiday season, but also because during this time of year they receive an extra salary. Since the 1960s, Brazilians are given a 13th paycheck in the year as a way to ensure the bills stay paid over month-long summer vacations and to allow people freely spend, buy, and travel during the holidays. Usually, about 60% of the 13th paycheck is first distributed to employees in late November and the other 40% in early December.
How international brands can optimize their holiday strategy in Latin America
With an influx of online shoppers, and most importantly new ecommerce shoppers, international brands need to make sure that their online experience and checkouts move as smoothly possible for each region.
Now is the time to make the investment in localization, whether that is in the form of translating your website, investing in local resources to provide customer service support, or making sure that you're accepting the right payment methods for every market. Translation and charging in local currency are absolute table stakes for securing new sales this season, but here's where there is the opportunity to go a little deeper.
Embrace cashless and digital first payments
Due to COVID-19, more and more Latin Americans have begun to embrace cashless alternative payment methods. Debit cards, which has traditionally been a payment method used in physical settings, have moved over to the digital realms with shoppers looking to have the flexibility to use the method in both settings. As a global brand it's important to make sure that you can support the payment methods they look to pay with. Consider activating debit cards in markets like Brazil where there are over 100 million users, as well as enabling digital wallets like Mercado Pago, PayPal, PicPay and Nequi across Brazil and Colombia.
Payment Flexibility
Latin Americans love installments. This was true pre-pandemic and continues to be a preferred payment option. Having the flexibility of their budget is important to Latin American shoppers, and for those that experienced a change in income, having the ability to spread out their payments over time can be the difference between them making a purchase or abandoning it altogether.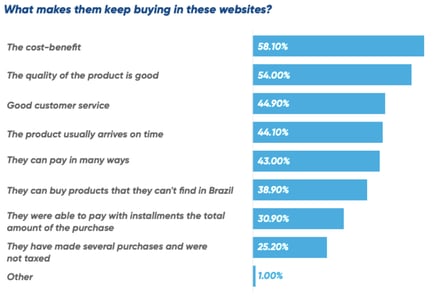 Additionally, be sure to offer a diverse suite of payment options for each country. While credit cards are the most typical method to pay for online purchases, don't overlook the variety of local cards each country accepts, debit cards, and even cash vouchers that are popular in Brazil and Mexico. The more options you make available, the more customers you will be able to accommodate.
Leverage region specific promotions and sales
Don't just create a blanketed marketing strategy for the Latin American market. Invest in localizing your collateral and truly channeling what resonates in each country. This will push your marketing dollars further, and in turn will build trust with this new base. Here are a few components to take into consideration:
Focus on price discounts
Create promotions and ads in your target audience's language
Invest in paid media
Feature specific products for each customer base
Regularly update your offers based on performance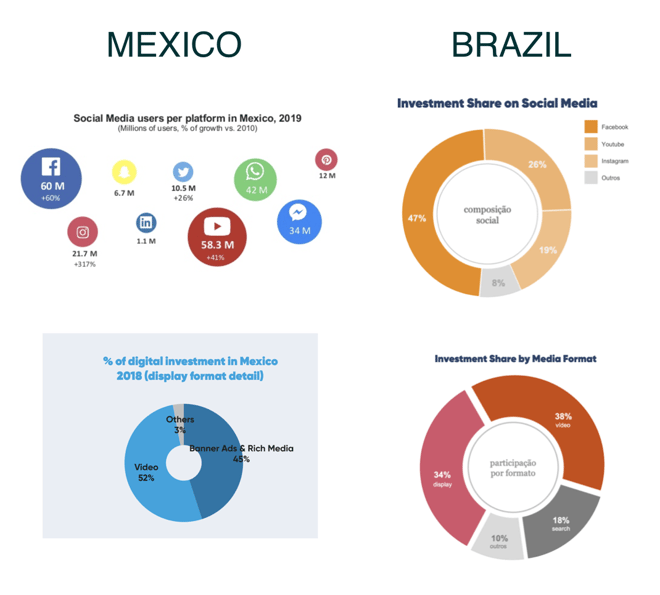 You can read more about the tactics to maximize your sales in Latin America on our EBANX blog.
Don't want to miss another holiday sales uptick? Get ahead of upcoming holidays in 2021 and position your checkout and Latin America strategy well in the new year. Let's talk.
White Paper: Digital Wallets in Mexico
See our analysis about Digital Wallets in Mexico and how to offer it as a payment option there