Brazil's instant payments system PIX transactions surpasses traditional banking transfers in the country
Between November 2020 (when PIX was launched) and November 2021, PIX was responsible for moving more than 700 billion dollars between accounts, with billions of transactions taking place.
✅  Brazil's PIX already has more than 364 million registered keys;
✅  73% of transactions occurred between individuals.
Read also: What is the meaning of PIX?
Brazil's Central Bank's instant payment system, PIX, has surpassed the use of other means of payment such as TEDs (a type of bank transfer in Brazil, which is faster because it is done during business hours, but more expensive) and DOCs (a banking transfer that works in business days, from one day to another) combined.
PIX already has more than364 million registered keys (each user can have up to three PIX registration keys). This tremendous success made the Brazilian Central Bank (BACEN) launch other features, such as PIX Saque (a cash withdrawal mode through PIX), PIX Troco (to enable changes in cash when someone makes a purchase).
The numbers exceeded expectations
The Central Bank already imagined that the instant payment would have good results, but this unstopping growth of PIX and the adhesion of Brazilians to the new instant payment system positively surprised the Central Bank and the industry players.
Offer PIX as a payment solution with EBANX
Huge opportunity for you. A fast and digital experience for your customers. Get to know the advantages of offering PIX on your online business:
PIX Cobrança through Boleto
Offering PIX Cobrança through Boleto, you will have access to the voucher payment Boleto with the PIX QR, having the possibility to choose which payment method they would like to complete the purchase: Boleto: Through the bard code (boleto) or PIX: Through the QR code
Real-time confirmation
Offer your Brazilian customers an alternative with confirmation in real-time – 10 seconds!
Availability
Operations can be carried out 24 hours a day, including on weekends and holidays.
Reach more consumers
Get a wider reach, giving access to those who don't have a credit card and also to the consumers who want a more digital and practical payment method. PIX is available for banks and for financial and fintech reaching the banked and unbanked population.
Convenience
The user experience is intuitive for the end-user since it is connected to the financial app that the user is already used to.
Security for you and for your customers
Implemented and following all Central Bank regulations, this payment option offers a lower risk, due to the steps of authentication on the payment flow.
It's time to leverage your company in Brazil. Dive in the PIX solution.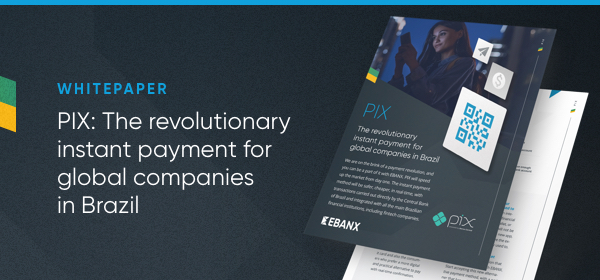 PIX: The revolutionary instant payment in Brazil
Safer, cheaper, and instant. Time to learn about PIX: the revolutionary payment method in Brazil