The payment methods in Brazil have definitely advanced beyond everyone's expectations in 2021.
Furthermore, with COVID-19 taking place, digital solutions have become more present in the payment industry because of increased smartphone usage.
The Influence of COVID-19 on International Online Shopping in Brazil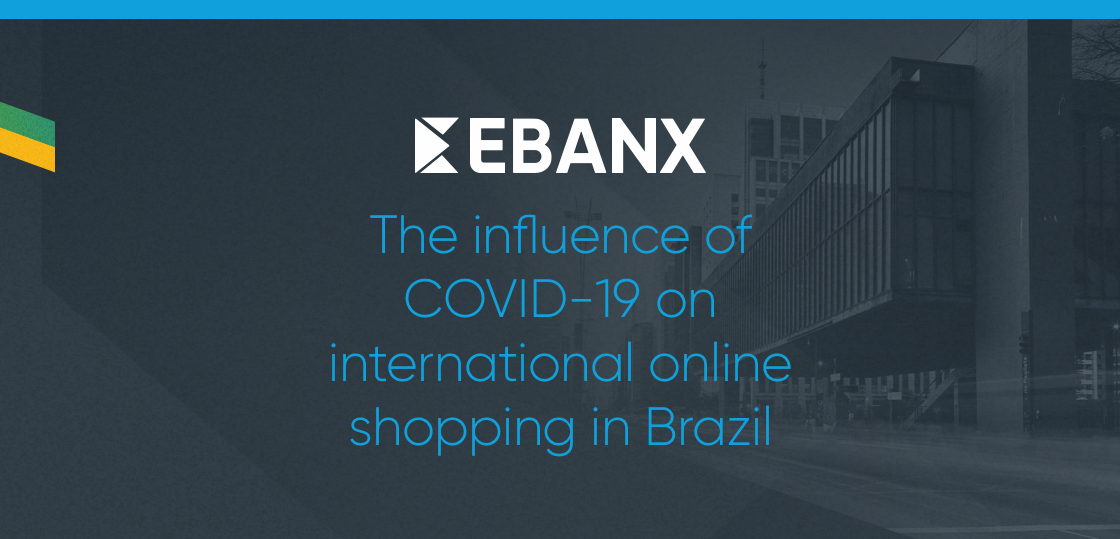 Download the report
Febraban reports that 74% of all the financial transactions in Brazil were made through digital payment methods. Also, a recent study has stated that there was a significant decrease in the unbanked population in Brazil.
CBB (Central Bank of Brazil) tends to upgrade the whole payment system in the country, providing quicker, more protected, and low fee transactions for all.
Not only will this be beneficial for all the people that want to utilize digital payments, but it also helps a lot of foreign businesses or entrepreneurs that want to expand their business and want to sell in Brazil.
Let's hop into the 2021 payment trends in Brazil and discover more about this new reality!
5 Payment Trends in Brazil for 2021
Card Payments
Paying with cards is surely one of the most popular payment methods you can use in Brazil. Over 44% of all the transactions in Brazil are made through card payments. Also, credit card use is high, with 1.06 cards per person, pointing to strong demand for buyer credit.
As the health of the Brazilian economy improves and buyers' confidence increases, card issuers will be more ready to lend money on credit cards.
However, even though this is one of the most popular, there are still many payment methods that have rapid growth.
Instant Payment Methods
Made by the Central Bank of Brazil, PIX instant is a payment method that allows transactions to occur in less than a few seconds, 24 hours a day, 7 days a week.
The PIX Instant Payment Method processed over BRL 83 billion in over 90 million transactions in just 1 month. This type of payment method allows cost-free and instant, with no limitations regarding date or time of day.
In addition, this will no longer need intermediates, allowing real-time money transfer and decreasing transaction costs. Payers can also complete payments without the recipient's personal info.
Banking Adoption
Speaking about the unbanked in such a digital age seems illogical, but until the middle of 2019, the population that didn't have a bank account in Brazil reached over 50 million.
Once again, the COVID-19 pandemic has made a major transformation in the financial system in Brazil. A lot of the unbanked population have started bank adoption – mostly through a digital account. Over 14 million people have created a bank account in just the previous year, so it is expected to grow more through the upcoming years.
Contactless
Another payment method that is showing a rapid growth in Brazil is the contactless way of paying through a mobile app. At the moment, over 97.5 % of internet users own a phone, and over 15% are implementing this payment method in their shopping.
The reason why this contactless payment method is becoming so popular is because of all the benefits that the consumer experiences: fast money transfer, good backup if they don't bring cash or a credit card, and instant authorization.
Digital Wallets
Digital wallets will still encounter a couple of barriers in Brazil due to the population's payment manners and lack of knowledge.
According to a recent study post, over 32.4% of users are familiar with the e-wallet concept but have never used or downloaded an app.
However, Brazilians are showing interest in this type of payment method.
With the help of PicPay (digital wallet app in Brazil), there was a massive 12% growth in users paying with their digital wallets from the previous year, and it is expected to grow even more.
Be ahead of the market. Get closer to your customers. Start to offer digital wallets on your e-commerce store.
Why do Brazilians love to pay with instant payments like PIX?
We mentioned Instant Payments being one of the first payment trends in 2021, but why do people love to use this payment method?
The main reason why most Brazilians are adopting instant payments as their payment method is because the transaction happens in real-time. Since there is no need for any card schemes or issuers to participate, the overall cost will decrease.
Why are contactless payment systems on the rise?
The coronavirus pandemic's high contamination rate has provoked a huge boost in contactless payments in Brazil.
In order to avoid contact with the sellers, Brazilians tend to use contactless cards to complete the transaction.
The places where Brazilians used contactless payments most of the time of the whole year were the following: markets, gas stations, pharmacies, and bakeries.
The limit for contactless transactions that don't require you to insert a PIN in Brazil is currently 50 reais (9 U.S. Dollars), and Visa expects that the payment method will jump even more once the limit is set at 100 reais (18 U.S. Dollar), which should happen really soon.
Another great way of contactless payments is through the near field communication (NFC) tech. A 290% growth has been spotted since last year.
In addition, public transport has shown to be a major motivation for expanding contactless payment usage in Brazil. With some of the cities like São Paulo and Rio de Janeiro adopting NFC payments and Q.R. codes, users are slowly becoming a lot more familiar with how the whole NFC system works.
What is needed for companies to win more sales in Brazil?
Brazil can be the winning country for your business as long as you know how to approach it.
However, there will always be a challenge for you, even if you have everything prepared. To get past all the competition and attract new customers, you will need to show them that you are worth their time.
In order to help you gain more sales in Brazil, we have a few tips mentioned below. Be sure to read until the end!
Payment Options
The number 1 thing that you should consider to win more sales in Brazil is the payment option. Brazilian customers enjoy the comfort of shopping with so many convenient payment options.
So by adding various payment methods, you will increase the chances of the customer completing the purchase. Therefore, we suggest that you use the most popular payment trends in Brazil.
Target Customers
A really common mistake that most companies make is trying to target all types of people. So the first thing that you need to do is identify your target customers and build an outline of possible customers. Then go ahead and analyze what they want and how you can attract them.
This is the part where you need to be creative because Brazilians love something that is special and unique in its own way.
Finding a large target is great; however, be sure that the target is precise. It will allow you to earn respect and specialization in your particular niche, which will then let you attract more customers.
To get a better picture of what customers you should target, let's look at the most popular categories and the top-selling products in Brazil:
Electronics – Memory Cards
The top-selling category in Brazil for 2021 is Electronic, and one of the most trending products in this category is Memory Cards. Memory cards are mostly used in smartphones and cameras and are a great alternative to C.D.s and USBs.
Fashion – Watches
The second category that is really famous in Brazil is Fashion, and the most popular products are Watches. There are all types of watches, including dive watches, dress watches, etc. However, lately, smartwatches have gained a lot of popularity. There's also a lot of room for company growth since you can offer them in your shop together with jewelry, sunglasses, and other accessories that go with them.
Computer Products – USB Sticks
Another popular category that Brazilian consumers enjoy is Computer Products, especially USB Sticks. Other popular computer products are the following: HDMI cables, projectors, SSDs, and external HDD.
Games – Call of Duty
Call of Duty is definitely the most popular game in Brazil right now. Other big names in the country are FIFA, Pro Evolution Soccer, GTA V.

Home Products – Color Changing LED Lights
Home and Decor is a popular category in Brazil, and the top product is the Color Changing LED Light. Other popular products are towels, doormats, bathroom sets, kitchen items, etc.
Mobile Phone Accessories – Wireless Headphones
Mobile phone accessories are a really profitable niche for company owners that want to sell in the country. And the products you want to offer are wireless headphones that connect with Bluetooth. But headphones aren't the only accessory that Brazilians are crazy about. So we suggest you stock up with portable speakers, colorful phone cases, and screen protectors.
Discount
Another thing that Brazilian people love is getting the products at a lower price than usual. Some of the most popular sales days are Black Friday, Mothers' Day, Free-Shipping Day, etc. So be sure to anticipate any type of sales throughout the whole year because this can help your business a lot. Not only will you win more sales, but you can also win a lot more loyal customers to your brand.
By a recent study, it has been shown that in late 2017, over 26.5 % of the total e-commerce revenue was made during Black Friday, which is an insane number.
Personalize
People pay extra attention to things when they feel it is relevant to them. And a great example of this is when people see their name on a product, they start getting attracted to it and want to buy it since it has their name written on it.
Brazilian buyers are especially responsive to the feeling that the product is being made only for them. To perform this, you can have a simple letter that will say their name, or you can have their name embodied in the product itself.
"Personal" can also refer to anything that the buyer is interested in – a music band that they love listening to, the best vacation city, favorite basketball player, etc.
Let's take an example that you want to sell T-Shirts in your company, so before you start selling all kinds of T-Shirts, look at a few things at your potential customers, like age, gender, etc. For example, if you are targeting girls at the age of 18, then you can sell T-shirts with some famous musicians, actors, etc. This way, whenever the buyer comes and sees their favorite musician on a T-shirt, they will immediately want to buy it without even trying it.
Have a Big Product Stock
The attitude of the Brazilian buyers is, "Why should I wait if I can have it now?" Consumers want their products or services immediately. So be sure that you have the product in stock before offering it to the buyers to activate the best possible customer experience.
Let's take an example of the business of cars in Brazil versus the U.S. In the United States, the car dealer will put you on the waitlist, and you will get the car in a couple of days or weeks. On the other hand, if a Brazilian shopper comes by and wants a car that they saw on an A.D. or online, then you must have it in stock.
It also means that companies should be careful when managing new product launches across different countries. If a product is launched first in another country, you will see it appear in Brazil through grey networks before you or your company is ready to sell it.
Credit at all costs
Brazilian buyers of all socioeconomic classes are accustomed to credits for all sorts of different categories. Often buyers don't get credit because they need it but because they can. Even Brazilian buyers who could definitely afford to purchase an item all at once expect to have the chance of paying in monthly (credit card) installments.
The default structure now is 10 installments with no additional fees. This forced companies to forge a different partnership with banks so that they can satisfy the needs of the Brazilian buyer. Companies that didn't even consider credit as an option in any of their shops around the world were forced to adopt it.
If you think that only low-end people get credit, then you are totally wrong. In Brazil, even some of the richest people want to pay through credit. An interesting fact that will surely surprise you is that 70% of all luxury product sales in Brazil are done through credit card installments.
Affordable Prices
A lot of economic conditions have resulted in more than 70% of Brazilians looking to spend as little as possible. So to save as much money as they can, Brazilian buyers often do their shopping in popular discount chains.
Although the buyers in Brazil are usually brand loyal (one-third of consumers stick with their preferred brand), 19% look around to discover retailers that are selling the same product at lower prices, and 14% of the buyers wait for the big sales. A really important thing to mention is that over 60% of buyers won't go back to a more expensive brand once they've performed the switch.
In general, Brazilians are pretty savvy buyers; however, there are a few categories where they are willing to spend more money on and those are alcohol and personal care.
By setting affordable prices from all the other competitor businesses, you will be able to lure many buyers into your company and potentially turn them into your everyday customers.
Marketing Campaigns
The last thing you can do in order to win more sales in Brazil is to build effective and consistent marketing campaigns. You will be able to do this in a few ways, but one of the best ways is using online advertising such as Facebook or Google ads.
Even if people don't click on your product advertisement, you will be building brand awareness, which means you will get familiar with your brand and the products you are offering.
Conclusion
In the end, we really hope that our article has helped your company in learning more about the best payment trends in Brazil for 2021.
We believe that the payment methods that will experience the most growth in this and future years are instant payments and e-wallets.
So, get your company ready and learn how to grow your business in Brazil!
PIX: The revolutionary instant payment in Brazil
Safer, cheaper, and instant. Time to learn about PIX: the revolutionary payment method in Brazil