Paying your local suppliers in LatAm has never been easier
Discover how global companies face the new challenges to expand in Latin America and pay their local suppliers and partners remotely.
EBANX Payout
A localized payout experience for enterprise companies settles international funds to their Latin American providers, suppliers, and partners.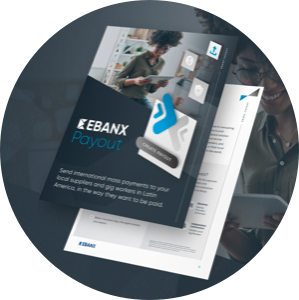 Download: EBANX Payout White Paper
The way we do business is evolving every day to be innately more global.
Technology and innovative business models have made it so we are no longer limited by location or borders and can flexibly do business with anyone, anywhere in the world.
However, regulation, compliance, taxes, local connections are a few of the components that are necessary to make the payment process smooth end-to-end. It can be a headache to stay ahead of and manage these for every market you work in – especially in Latin America.
How can enterprise companies face the new challenges of expanding in Latin America and paying their local contractors and gig workers in the way they want to, in their currency, without being physically present?
EBANX Payout solution offers a localized payout experience, in which brands can easily navigate the local challenges of paying contractors in different countries and currencies, safely and quickly, while leveraging the expertise surrounding the Latin American market that only EBANX offers. 
Breaking barriers, expanding, and paying your local suppliers in LatAm has never been easier.
Showing EBANX Shield: a fraud prevention strategy
Learn all about EBANX top-notch fraud prevention strategy designed for the Latin American market