Magento dropshipping apps: How to find the best suppliers
Find out all features that can play a crucial role in choosing a Magento as a dropshipping supplier.
Not so long ago, the upward trajectory in online shopping preferences and rising trends in the cross border e-commerce have steered towards significant market growth. The e-commerce marketplace has morphed into a massive hub of diverse opportunities for mega businesses and small entrepreneurial startups alike. The evolving potential provides a wide range of viable dropshipping options. You need to be well-versed in the evolving e-commerce marketplace to explore the process of choosing dropshipping Magento suppliers.
Cross border shoppers in markets with sizable domestic retailer presence were projected to be between 1 in 4. Let's take Brazil as an example. The cross-border consumption behavior data makes unprecedented projections that can lead to a lucrative investment landscape for your entrepreneurial dreams. Beyond Borders, Research (2021-2022) by EBANX provided exciting insights into Brazil's cross-border consumption patterns. Furthermore, the collaborative study with Americas Market Intelligence demonstrated rising e-commerce potential, with the numbers point out to a growth of 30% every year through 2025.  
Fast evolving opportunities in Latin American market can serve as a good demo. The ability to conduct thorough research and smart decision making can be a make or break scenario for entrepreneurs in the dropshipping e-commerce savvy markets. Being interested in dropshipping with Magento, many of our readers with entrepreneurial zeal yearn for reliable information.
With our comprehensive guide on various quality marketplaces, you will be able to select the most effective suppliers best suited to your specific needs. More of that latter, but first, let's discuss the necessary foundations that can play a crucial role in choosing a supplier.
What is dropshipping?
Despite a plethora of opportunities, the marketplace has also witnessed stark and cut-throat competition over the years. Entrepreneurs have been focusing way more on evolving drop shipping strategies to stay afloat with the competition. Enterprising dreamers need to be unique in their drop shipping strategic decisions, especially digital marketing efforts, to maintain a profitable and viable business in the saturated and competitive e-commerce industry. If done right, dropshipping can be an effective and efficient way to grow your e-commerce store.
So what is dropshipping? Moreover, how can this effective technique help you sustain your financial success?
Read also: How to start a dropshipping business
The drop shipping business model is a valuable stockpile management method. It can provide immense help in kick-starting new entrepreneurial startups, expanding your product line, streamlining orders, and eliminating inventory management worries. Retailers order supplier services to ship their goods directly to the end consumer.
The wholesaler handles everything related to the hectic shipping process. The financial gains due to the absence of an inventory can act as a catalyst to motivate and fuel the fast-evolving developments in the dropshipping business industry. This method, for retail, has played an essential role in helping online businesses grow and sustain profitability over the years. It will help you to stay competitive and earn some serious profits.
The global dropshipping market size was valued at USD 72.12 billion in 2018. It was expected to projected to grow at a CAGR of 6.93% reaching USD 107.86 billion by 2026.. Major e-commerce businesses like SaleHoo, AliDropship, and Oberlo have focused on portfolio expansion due to a heavily fragmented market with a lot of medium and small-sized players. The big boys pursue effective dropshipping strategies that involve offering services to wholesalers and manufacturers.
Next up, you need to be familiar with the pros and cons of running a dropshipping online store. It will help you to be in a position to plan better.
Benefits of Dropshipping
Dropshipping offers various benefits to retailers. Retailers don't have to commit massive capital for managing inventories as products are bought, stocked, and shipped by wholesales entirely. Dropshipping affords you the flexibility to run your business from anywhere without any unnecessary hassle. You will only need a reliable source of the internet to conduct your business effectively.  It can be a specially rewarding experience for budding or established companies experimenting with newer products in the market.
The ability to operate your business successfully without any large inventory investments can be a major relief. The stress in packaging, starting a new online shop, shipping, and not worrying about supply procedures provides you with ample time and space to focus elsewhere. So, what's more?
These are good times to be running a dropshipping with Magento based online store. The primary payment management companies like Mastercard, Elo, and Visa are hard at work, ensuring security and seamless payments while reducing shopping journey friction. The fast-changing trends can present potential financial success if tinkered with appropriately.    
Disadvantages of Dropshipping
Just like every other business model, dropshipping also poses some challenges. For starters, customer satisfaction issues can arise due to you not observing the shipping procedures physically. It can prove to be difficult, maintaining the quality protocols and avoiding unpredictable errors. Another challenge can be higher competition. It would help if you always stay vigilant and unique to keep the competition at bay. Although with experience, perseverance, and faster adaptability, financial success can be sustained. Nevertheless, profit loss becomes an essential factor that should be given due consideration. With higher competition, profit loss becomes an undeniable reality!
Is Dropshipping Legal?
Dropshipping is as legal as it gets. There are no laws in any jurisdiction or policies by any government organization that makes it unlawful. However, like any other business, Dropshipping with Magento is also regulated around the world. As an aspiring entrepreneur, you should be well-versed with any regulations or laws that might adversely affect your business operations.
In different countries, there can be different laws. Let's discuss a few examples to get a better picture of e-commerce laws. In the USA, you must have a reseller permit and ensure compliance with all the tax laws to avoid inconvenient fines. Suppose you are interested in selling to consumers in the European Union. In that case, compliance with the GDPR (EU General Data Protection Regulation) comes into effect. Likewise, for business operations in Australia and the UK, you will need to comply with Australian Consumer Law and Distance Selling Regulations, respectively.   
It is also vital to remember that if you don't give due diligence to specific areas like Licenses, trademarks, tax management, counterfeit products, and unreliable suppliers, your business will be rendered vulnerable to legal troubles. We strongly recommend that you be familiar with all the legal requirements pertaining to the global target markets.
Why choose Magento Dropshipping?
Until this point, we have given you all the information essential to researching and planning for effective dropshipping operations. Choosing the right e-commerce platform will help you set everything up conveniently. Magento Commerce has been a popular choice for enterprising e-commerce brands over the years, with a 31.4% share in the most successful e-commerce websites category. This section and proceeding sections will deal with setting up a dropshipping Magento store.
So the big question is, why should you choose Magento? Let's look at all the features that can make Magento a top choice for your dropshipping aspirations.
Features like no hidden/extra charges, no commission fees on every order, no limitation on orders, and self-hosted data should be a reason enough for you to make dropshipping Magento a home for your online business. In comparison to other platforms, Magento prides itself on out of the box support for all kinds of online stores. Magento's CMI(s) is way more effective than other e-commerce big boys like Shopify or BigCommerce.
The bottom line is that Magento will significantly affect the financial performance of your business. It is exclusively designed for e-commerce businesses to ensure higher levels of efficiency.
As per Stax Research in 2019, the Merchants that switched to Magento Commerce earn more and spend less.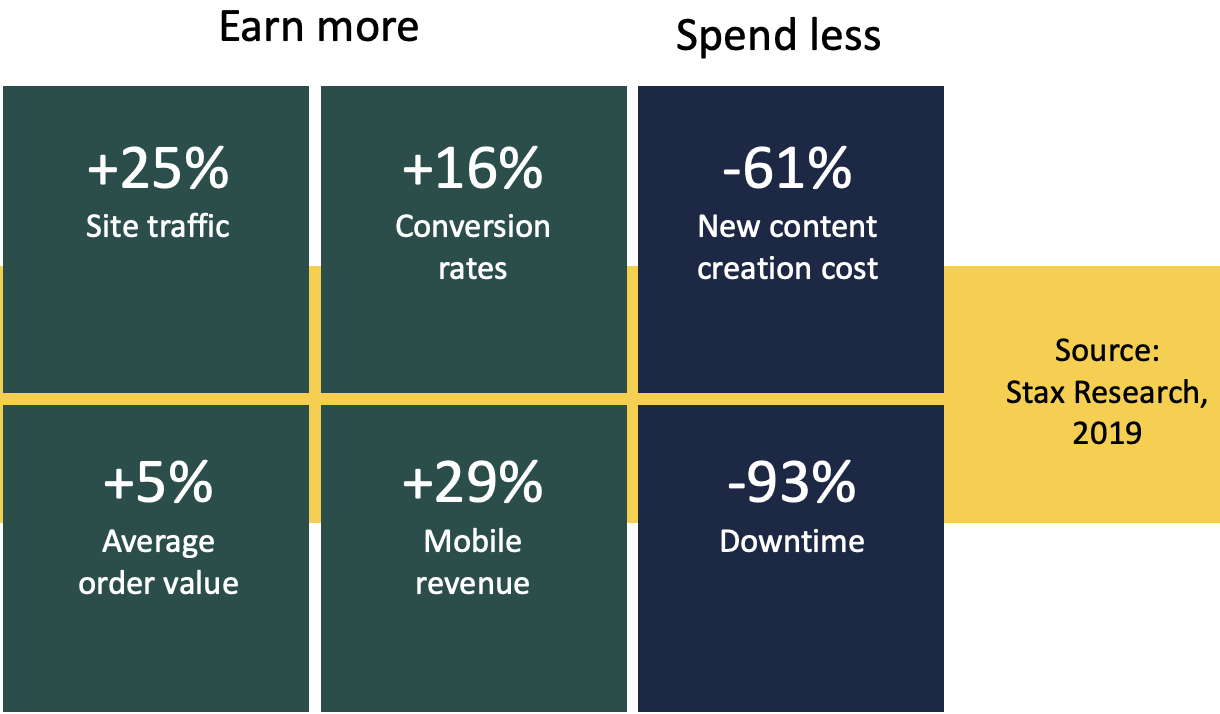 How to choose your wholesalers and suppliers?
Like any other venture, we recommend that you research all the suppliers and wholesalers in depth. Conducting a cost-benefit analysis will be a good start.  It can prove to be a useful way to help you get started despite not being a foolproof way to gauge all the factors. Researching and evaluating multiple wholesalers for reliability and trust is critical. Various top-level retailers in the online stores and brick & mortar category feature dropshipping in their portfolios and business models. The wholesaler is the backbone of your dropshipping business, so we cannot stress enough value-added research.
Choosing the right supplier or wholesaler for dropshipping gigs should focus on asking all the right questions that might affect your business performance. It would help your business if you conduct extensive research and come with as many value-adding questions as possible. Ask the right questions! Here are some familiar ways that can help formulate quality questions to get you going:
– Always try the product yourself first to think from the perspective of a customer. This will provide you with multiple questions that will accurately estimate the target customer's part.
– Gain significant insights from customer reviews on the supplier. Reading the reviews will help formulate quality questions.
– Due to probably infeasible tracking shipments, business scales, placing orders, and manual inventory levels management, looking for automation can be a good idea.
– Reviewing the supplier policies is recommended to manage the returns better, handle broken products and missing packages.
– Understanding the fee structures can be useful to avoid any hidden costs or fees.
Tips for choosing the right Magento drop shipper
Let's look at some rudimentary tips that you can apply to make an effective decision in choosing the right Magento Dropshipper:
– The first thing is to set your criteria for a supplier selection based on the ideal lead time, return policy, dropshipping capabilities, communication standards, payment terms, and quality assurance processes.
– Evaluate the potential suppliers based on security, reputation, and business type.
– Communicating with the vendors during bidding regarding their policies and processes can be beneficial. It is strongly recommended to inquire about raw material sourcing and planning to establish reliability.
– Evaluate the pool of bidding suppliers. Compare multiple suppliers based on quality standards and your budget. Furthermore, due diligence protects your profit margin by ensuring that the contract will have reasonable pricing.
– Ensure the legitimacy of the suppliers and wholesalers by asking for ISO compliance documents and a product sample.
– It is important to maintain cost efficiency over the contract duration. Being sure that you will be working with a reliable supplier or wholesaler is of utmost significance. You can do so by keeping tabs on work commitments.
Choosing the right suppliers can seem like a daunting job. No worries! We have researched and compiled a list of dropshipping suppliers in the next section. Be sure to research these suppliers to select ones that are best suited to your specific needs.
Ten dropshipping suppliers for your Magento store
It's easier than ever for aspiring entrepreneurs to start selling products to consumers due to the rise of e-commerce platforms like Magento Commerce. However, there are several trade-offs in doing so. It's essential that any new seller understands these and works to find a supplier to make their business succeed. The following list of Magento dropshipping suppliers is just meant to point you in the right direction. Please conduct thorough research on each supplier individually to gain a better picture of their services.
AliExpress
AliExpress is typically the go-to for many drop shippers and has millions of products. Magento Aliexpress allows you to order single units of items, unlike many suppliers on the Alibaba wholesale services. Owned by the Chinese eCommerce company Alibaba, AliExpress is an online marketplace. It eliminates the need to store dedicated inventory off-site, letting you ship directly to customers.
Oberlo
Oberlo Magento is the best dropshipping company if you plan to use Shopify Dropshipping in the future or are already using it. Their application makes it easy to search for products, find the best ones for your audience, add them to your Shopify store, and ship them directly to your customers. For real, It does not get much easier than this.
SaleHoo
SaleHoo is based in New Zealand and provides one of the largest international directories of suppliers and buyers. Primarily, SaleHoo is a directory on dropshipping and wholesale.
Doba Dropshipping with Magento
Being compatible with Magento, Shopify, Volusion, BigCommerce, and all other major shopping cart providers, Doba is one of the most comprehensive dropshipping services on the market today.
Spocket
Featuring a forever-free plan with a large amount of Etsy based products for higher quality; unique goods, Spocket are an ideal platform with the benefit of branded invoicing and for sourcing US dropshipping suppliers.
National Dropshippers
Based in New Hampshire, National Dropshippers provides flexible membership plans and offers fast delivery. It's a simple service to drop ship their products and partner with distributors and manufacturers around the USA.
Wholesale2b
Being the best for Unlimited Order Processing, Wholesale2b integrates products offered by a wide range of suppliers into a single platform. Wholesale2b offers various apps compatible with various e-commerce platforms, BigCommerce, Amazon, eBay Shopify, and more. Under one roof, it's an affordable way to get access to millions of products.
Megagoods
The California-based Megagoods enables fast shipping in the US, unlike other services, by actually warehousing and owning their products. It is a distributor of consumer electronics.
Worldwide Brands
Being based in Florida with 20 years of experience in vetting their suppliers, Worldwide Brands provides a directory of large and small volume wholesalers, verified drop shippers, and importers.
5 Effective Magento dropshipping extensions for your online store
Logicbroker is a useful Magento dropshipping extension. With a flat monthly fee subscription (percentage of revenue no charge per order), this extension ensures partial shipping support and management. Order documents are automatically sent to suppliers via XML/CSV /EDI /Portal or Logicbroker API.
You can upload/download spreadsheets for orders, shipments, and invoices. Magento+ Logicbroker can manage multiple suppliers and automate inventory updates from suppliers. With the ability to generate your branded packing slips and fulfill orders, the extension supports a robust supplier portal. Finally, Magento's branded email notification is triggered when tracking information is automatically updated.
Drop Shipping is part of the Embedded ERP Extension Suite that helps in automatically selecting the cheapest supplier. This extension is one of the most popular and influential Warehouse Management Systems available on Magento 2. With Magento 2.2.x, 2.3.x & 2.4.x compatibility, DropShip workflow is ensured to follow the progress.
You can now get supplier stock and price import options with this extension, making it the first choice in our list for the best Magento dropship extensions. However, that is not all that is on the table. This Magento dropshipping extension is also compatible with ERP Purchasing. Some of the more extensive features include importing provider warehouse levels and management, saving time, catering to multiple shipping methods and track orders, and bringing more convenience to users.
This Magento Marketplace Extension is best for Multi-Vendor e-commerce Platforms. With a $59 extension installation fee if desired, it is available for $249. It's an entire marketplace with bundled dropshipping, much more than just a dropshipping extension. The admin can easily track and follow orders and shipment methods used due to basic multi-vendor store functionality. So basically, being a fully-featured Magento 1.x / 2.x MarketPlace Extension, it will turn your Online Store into an all-in-one Multi-vendor e-commerce.
Dropshipping, what better name than that? The extension is available for $199. You get a complete dropship workflow, cheapest supplier's automatic selection, and importing of supplier price and stock, once the extension pack's hefty price tag has been dealt with. For better automation, communication is conducted via FTP between suppliers and admin. The Boostmyhop developers explain that you can make them available to sell again by changing to sellable from InStock products.
CedCommerce retails the Magento AliExpress dropshipping extension for $299. You can readily import items based on their keywords or URL with ease. What's the highlight of this extension? You can set AliExpress products with a completely different cart. Plus, it saves your resources due to availability and prices completely synched with AliExpress.
Here you go! That is all the information that you will need to set up your dropshipping Magento store effectively. The key takeaway here is to strategically plan all the facets of the dropshipping business with extensive research.
EBANX Payment Gateway Integration
Also, please take a moment to read about a bonus bit of information for our deserving readers! Don't forget to get started on your business with our Magento Dropshipping Extension. Our EBANX Payment Gateway Integration will provide you with a popular payment method in Latin America.
You can install the EBANX Payment Gateway for Magento with a few steps and get impressive results. With the EBANX Payment Gateway for Magento, you will be able to process relevant cash, online debit, and credit card payments having access to over 2,40M EBANX Account users.
Our annual study is out! Beyond Borders 2021-2022
Beyond Borders 2021-2022: How digital payments and e‑commerce are gaining traction in Latin America