Latin America: A look at the e-commerce market opportunities
As the world's second fastest growing e-commerce market, the e-commerce in LatAm is expected to expand 25% per year until 2021. Learn more about it!
In 2018 Latin America's e-commerce sales amassed more than $100 bn in annual spend. With a GDP that's expanded by nearly $500 billion dollars in 2019 and a region that's in the throes of digitalization – this promising region is largely untapped by e-commerce entrepreneurs looking for new market opportunities.
As the world's second fastest growing e-commerce market, the e-commerce sector in Latin America is forecast to expand 25% per year until 2021 (and surprisingly outpacing the United States, Europe, and East Asia). From retail to travel and digital goods, rising rates of internet connectivity and mobile adoption mean Latin America's purchasing behavior is changing.
Extra content: In this white paper, you will find information and insights about Latin America, its e-commerce market, and the main payment trends. Download now and get to know this market full of opportunities.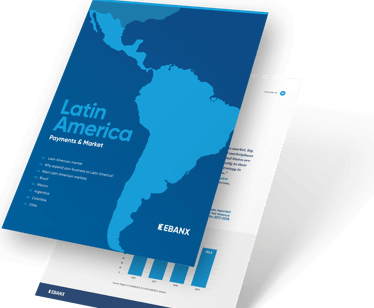 Whilst Brazil and Mexico might be the first countries that come to mind when talking about a possible move into this region of huge potential, Argentina and Colombia (amongst others in the region) have also been fostering economic growth, with a rising number of connected consumers.
Low competition means there's great potential for e-commerce entrepreneurs that want to enter a region that's hailed as a new promising market. So, let's get to know this region closer with a look at the consumer behavior, payment habits and language barriers within this region of growth opportunities.
A region more connected to the Internet than ever before
With the increasing availability of digital access, the number of Latin Americans online is growing at high speed. Brazilians, for example, are in the rankings of the most connected people in the world, with 147 million people with access to the Internet and 97% of them owning a smartphone.
In Colombia, connectivity and innovation became an essential policy, government initiatives are pushing the country towards digital transformation. As a result, e-commerce is thriving, connectivity increases give Latin Americans the possibility to use the internet and their phones as tools for online shopping.
Online Media and advertising
In regional terms, Latin America is where social networks are most used in the world – the daily average is 212 minutes, whilst the lowest level was recorded in North America, with 116 minutes.
People love to follow their favorite brands and search for new online trends, therefore a good online presence is a must for e-commerce entrepreneurs looking to reach more customers. Influencers play a strong role within this ecosystem, people trust them, seek their tips and then make a purchase decision.
Regarding online investments, choosing the online channels to better reach the Latin American public will depend on the category of products or services that you offer.
Top Digital Advertising Channels in Latin America
– Facebook
– Instagram
– Google Search
– Google Display
– Youtube ads
Even with the growth of online ads and internet penetration, advertising in Latin America is much cheaper than other parts of the world.
Latin American consumers have a specific purchasing behavior 
We know that depending on the region consumers have very specific buying habits; from the products they choose to buy, to the way they pay for them. Each country in Latin America is different in aspects such as economy, politics, culture, and consumer behavior. Understanding this contrast is an essential step to succeed in this market.
Extra content: How to unlock the power of localization in your business strategies
Latin Americans are always searching for international trends, new technologies, digital solutions, and products that put the rest of the world more in reach. That's why they are increasingly buying various products at competitive prices from international online stores.
In both Brazil and Mexico, the average ticket for cross-border online purchases is less expensive than domestic orders, causing cross-border e-commerce to grow at twice the speed of domestic.
For these reasons, it should come as no surprise that Latin America is the world's second-fastest-growing e-commerce market.
How do Latin Americans pay online?
If you're only accepting credit and debit cards issued by the major global schemes – this will not be sufficient in Latin America, since there are barriers to accessing financial services and credit. According to the World Bank, 38% of the global adult population do not have access to any banking services, besides that only 19% of Latin Americans own credit cards and only 6% have cards enabled for international transactions.
That's why offering local payment methods is the golden ticket to expanding globally by gaining access to entire populations and enabling customers to pay for purchases with methods they have access to and are familiar with. Take a look at the most used payment methods in Latin America:
Voucher Payments
With many Latin Americans still poorly served by financial institutions, they continue to make cash-based payments. Even those who have access to credit cards sometimes prefer to use voucher payments such as Boleto Bancário, OXXO, and Baloto because they don't feel safe to give personal information on websites when purchasing online.
When the customer chooses this payment method, a voucher with a barcode is generated for the customer to either print, copy the barcode number or scan it with their phone. Then they pay it in cash in over 300k locations or through internet banking or via the bank's mobile app.
Domestic credit and debit cards:
In Latin America, most people don't have an international credit card – which means they cannot buy in any currency other than their own. Through local processing with local acquirers, you can accept payments from all domestic and international cards in Latin America. With that, you can increase your approval rates since only 6% of Latin Americans have cards enabled for international transactions.
Installments:
Installment payment plans are extremely popular in Latin America, both for in-store payments and in e-commerce, data reveals that 60% of e-commerce purchases are paid for using an installment plan. The chance to buy expensive products or services and pay for them in installments spread throughout the following months is a perfect option for Latin American consumers.
Alternative payment methods:
Latin Americans have several ways to pay online beyond credit cards. Alternative payments such as bank transfers, e-wallets, SPEI, and Servipag are commonly used to make online payments.
Discover PIX: The revolutionary instant payment for global companies in Brazil
Communicating with the region
Don't let language be an obstacle for growth. Latin America is a region of 422.5 million people and where English is spoken natively by just 800,000. If you have hopes of entering this booming market, an English website is just not going to cut it. After all,
Not only will this impact the way you can communicate with your potential customers, but it terms of searchability. Latin Americans won't be using English to browse for goods online, so having a website available in Spanish and Portuguese is going to be key to your success.
Summary 
With this economic development and connectivity growth, e-commerce entrepreneurs from all over the world are looking to Latin America as a potential market for growth.
However, the process of selling in a different region and in particular so many different and unique countries within Latin American is not unified.
Let's recap the key aspects to selling in Latin America:
Understand the different local payment methods. Operating via a local intermediator that understands the market and has partner connections can make the expansion smoother for international companies
Research the purchasing behavior. Get to know the economy, politics, culture of the countries that make up Latin America – each country has its own culture which impacts what and how they purchase
Localize your strategy. Understanding the culture, customer behavior, the language, and the payment preferences of the country is essential to adapt your business to the Latin American reality.
Find out more about Latin American cultural and economic data and information about e-commerce and payments of the main countries in LatAm. Free download!
White Paper: Digital Wallets in Mexico
See our analysis about Digital Wallets in Mexico and how to offer it as a payment option there