How localization can connect you to more Latin American consumers
Your expansion strategy must be all about localization. Localization unifies the customer, language, currency, product, payments, and much more.
Why localize?
Over the course of the last month we have covered many of the facets of growing your brand in the region. Throughout this series we've covered market statistics, customer habits and what goes into building a rock solid business strategy in LatAm.
Selling to another country always requires some research and consideration of the local consumer behavior and brand expectations. Adapting how you promote your products/services and position your brand according to the local characteristics is what we call localization, and it is an essential part of a successful cross-border marketing strategy. In this guide, we have reunited some main factors that will enrich your localization strategy to Brazil, based on our expertise and how the main stores in the region act.
Download the e-book: The 10 Main Localization Strategies for a Winning Marketing Strategy in Brazil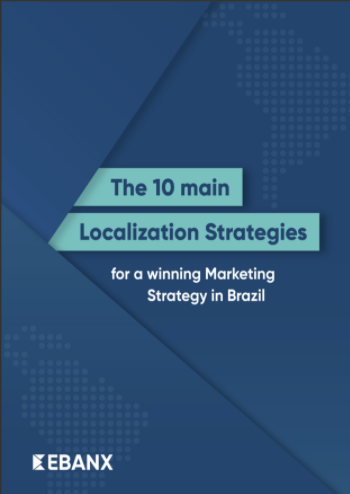 A large part of the last part revolves around localization. Localization unifies the customer, language, currency, product, payments, and much more. It provides an avenue for brands and consumers anywhere in the world to connect.
Localization is what differentiates large international brands from the rest. We've found this is true as consumers but especially when it comes to helping large brands reach the region. Thus, in this article, we've laid out the different aspects of localization that you should consider and how you can start implementing these changes today.
The basics
Let's start with the basics. When it comes to prioritizing localization, there are few components that are great starting points and provide the foundation for your localization efforts in the future. While not big and flashy, implementing these changes can have the biggest impact on the trust you have with your customers in Latin America.
Language Translation
Accurate language translation of your website, checkout, and products can go a long way. 54% of Brazilians say they are not comfortable making a purchase that is in a language other than Portuguese on an international website. Brands like Udemy and Deposit photos have done a great job of translating their websites for each country they offer their services to. As a result they have seen greater adoption in the region.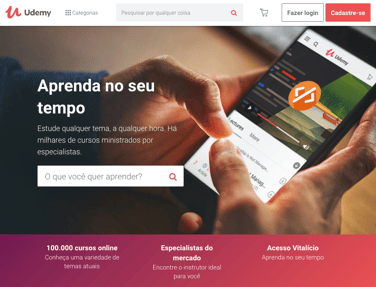 Currency
7 out of 10 Brazilians prefer to pay in BRL on international websites. Currency fluctuates regularly. When you charge in USD, even though your base price may never change, for Brazilians, and all your Latin America customers it does. When you are presenting your prices in BRL or MX you are committing to the budgets and payment habits of your customers in this region and cementing that you're in the region for the long haul. 54% of Brazilians would not pay for a digital service that is presented in USD, it's that simple.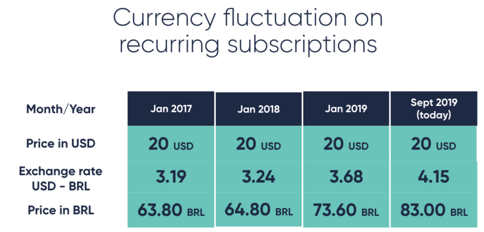 SEO
Leveraging regional specific keywords and search trends at different months of the year can help you maximize your brand exposure. It's important that this research is done in the official language of each country so that keywords are reflective of volume. Just like your other SEO strategies, these keywords should be present throughout you larger LatAm strategy so you have consistency. Your offers have to be attractive to both search engines and human beings. Learn more about search habits of Latin American consumers here.
Brand
Whether your brand has offered your service to Latin America for years and years or are planning on expanding, building brand awareness and ultimately credibility with this customer base is essential for success.
When it comes to digital brands, this brand awareness might not previously exist. Digital adoption in the region is new, and many Latin Americans likely haven't had exposure to your products and services yet. Digital brands like Zoom and Dropbox have done a great job of translating their websites and tailoring their messaging to each region of customers so they can run specific marketing campaigns. They know to gain the trust of users in the region for products that they have not used before this groundwork is necessary.
Before investing millions of dollars on advertising and branding campaigns, it's important to keep the following top of mind when localizing your brand experience:
Campaigns & promotions
You've defined your customer, and now it's time to put your brand to the test by running campaigns and advertising to provide an access point. Before investing in creative dollars, there are a few components to consider in making your campaigns and promotions feel localized.
For one, it's important to take into account the different holidays and seasons within each country. Holidays like Carnival, which is a three day celebration in February or March, are completely unique to Brazil. Where as Hot Sale, in May, is the biggest shopping day of the year in Mexico. Seasons like back to school are reverse with the US, with many Latin American's kicking off the new school year in December or January. Learn more about the different holidays and seasons in each country in our latest Latin America Holiday Calendar here, and below.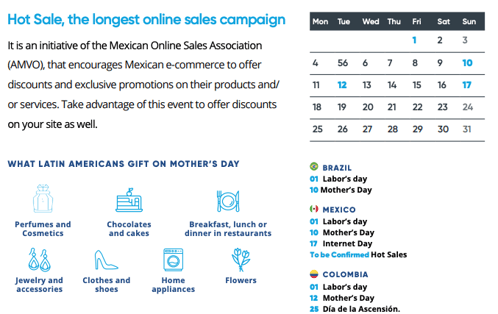 Influencer marketing
Like other countries around the world, influencers have been leveraged as a middle man and means for large companies and brands to connect to a broader audience. Influencer marketing in Brazil has grown with Brazil being one of the top five countries for largest influencer marketing growth.
Before selecting the largest influencer consider which customer you are looking to get through to, and who it makes sense to use. Leveraging micro influencers or influencers that are specific to a certain city or region may be the best way to connect with groups of buyers across a country.
Payments
Imagine knowing that you are only allowed to use one type of credit card at one store, and another type at a different store, and so on and so on. This experience is less than ideal, and that's why localizing your payment and checkout process for your customers is such a paramount piece in localizing your brand.
The payments landscape in the region is diverse. How diverse? Here are just some of the different local payments used across Latin America: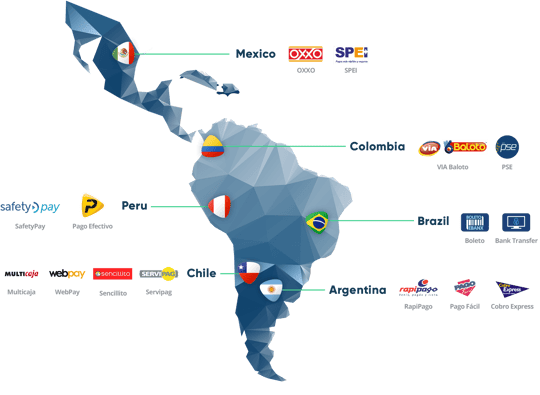 Offering local payment methods
Accepting a singular payment method, like Visa cards with international purchasing capabilities won't cut it. For starters, only 29% of Latin Americans have this card, and yet 45% say credit card is their preferred method. 
There is no ignoring the fact that Latin America is still a cash-first region that is rapidly moving into the digital sphere. Payment methods like Boleto Bancario are being paid through digital app, but are still a preferred method that many international brands don't accept.
With a payment partner in the region, you have the ability to add multiple payment methods to checkout from local cards to cash voucher, installments and more without any major integrations or having to manage acquirers. The more payment methods you can accommodate, the more diverse customer base you can serve, and it is less likely that you are going to have abandoned carts and missed customers.
Looking to better understand how you can localize in the region? Get in touch with us and our localization consulting experts will be happy to provide a few suggestions.
Our annual study is out! Beyond Borders 2022-2023
Beyond Borders 2022-2023: How digital payments and e‑commerce are gaining traction in Latin America