In order to ensure the best approval rates, recurring payments must match each local reality – and if credit cards play an important role regarding this type of business, there are other types of cards and payments that are growing exponentially in Latin American markets.
Getting to know these rising payment methods may be no easy feat, but in this article you can find the best practices on subscription payments and also an overview of each country's preferences when it comes to key alternatives for subscription services.
Best practices for subscription payments in Latin America:
Best practice #1: Optimal payment options for subscription
When we talk about recurring payments in LatAm it is key to understand the differences of each country and the payment methods that are trending for each type of business.
In Colombia, for example, prepaid cards have a quarter of the whole share of subscription businesses.
Best practice #2: Consider the best billing periods
By billing subscriptions on specific days of the month, this can significantly improve your approval rates.
Check out this graph with information regarding consumer insufficient funds and how your retry logic can overcome this issue. You can see the optimal dates during the month to bill for subscription.
It is also equally important to consider the best time of day to perform your operation. That way you will avoid having payments being denied due to lack of funds.
Best practice #3: Cards with dynamic numbers
Another best practice is to pay attention to virtual cards with dynamic numbers.
We saw a rise in Brazil on those specially due to the government assistance that was released due to the COVID-19 Pandemic. This may cause a problem because those cards will very likely not work following the first month of the subscription.
What also makes a difference on conversion rates is to use a trusted MID, which is a special affiliation from a specific merchant to the acquirer. This provides separate paths for the transactions, as well as more visibility to issuers and acquirers, consequently allowing them to recalibrate the approval rules.
Best practice #4: Implement a recurring channel through local issuers and acquirers
This is more of a technical thing, but you need to make sure you have the right route to submit your transactions with acquirers and banks. This makes a huge difference.
It may seem obvious but Latin America still has the legacy from the monopoly of the acquirers. So, you need to make sure that you are set up and working well, and then simultaneously monitor KPIs and data. This may drastically improve your approval rates.
Best practice #5: Take a deep dive into Declined Reason Codes
Often declined reason codes are not clear from the acquirers and the banks side, so it is very important from time to time to sit down with the issuers and have a deep dive on these reasons. Understanding the behavior of these declines and aligning the rules with acquirers and issuers may increase your approval rates up 2-3 percentage points.
Best practice #6: Pay attention to specific fraudulent behaviors
The abuse of free trials is an example of fraudulent behavior When individuals create several accounts to keep benefiting from the free trial period or organized groups that test if the card numbers are valid, and then sell those numbers to other fraudsters can be common. To fight that, information is key. Not only the information provided by the customer on the checkout, but also, information that the merchant can acquire by themselves, such as device fingerprinting and customer ID. This will help you to prevent fraud by identifying users and blocking fraudsters.
EBANX merchants operating recurring payments benefit from all these best practices we have just seen. They can also request an in-depth analysis, so together we can build the best strategy for each case.
Brazil: Pushed by the pandemic, subscription transactions with debit cards more than doubled in only one year
With more than 116 million active cards and about 59 million people that have access only to this specific payment method, debit cards are currently very trendy in Brazil. And subscriptions are no exception to this trend, particularly pinless debit: a game-changer for recurring payments.
While the vast majority of these debit card transactions in the country still belong to physical purchases (only 6.5% of online transactions are made with debit cards), the COVID-19 pandemic leveraged the popularity of debit cards when it comes to online shopping. Subscription transactions with this payment method more than doubled in one year.
1. Source: BACEN (Brazilian Central Bank)
2. Source: ABECS (Brazilian Association of Credit Card and Services Companies)
3. Source: ABECS
4. Source: EBANX internal data
Argentina: While as much as 18% of recurring transactions are made with debit cards, prepaid cards have a share of 8.7%
In Argentina, both debit and prepaid cards are of ultimate importance for subscription businesses, especially among the younger population. Grabbing a share of as much as 11% of the total amount of online transactions, debit cards in digital purchases increased 5% from 2018 to 2019 and are expected to continue growing year over year.
When it comes to subscription services, this payment method stands out: internal data from EBANX shows that 18% of recurring transactions are made with debit cards.
Local and regional card brands play a key role in the Argentinian market. Naranja, the strongest local issuer, accounts for around 9 million cards in the country of these are issued as Visa, Mastercard, and American Express, while the other half
is flagged as "pure" Naranja.
Prepaid cards are also in the spotlight for subscription services. While this payment method accounts for 3% of online transactions in Argentina (along with direct carrier billing, cash on delivery, and other miscellaneous payment methods), internal data from EBANX indicates that prepaid cards have a chunk of 8.7% of all recurring transactions. As for brands, the two strongest players are Mercado Pago and Ualá, but Naranja is heating up the competition with its newly launched Naranja X Visa, aiming at the unbanked population.
1. Source: Americas Market Intelligence
2. Source: Card Type Share per Country and
Transaction type, EBANX internal data 2020
3. Source: Naranja
4. Source: Americas Market Intelligence
5. Source: Card Type Share per Country and
Transaction type, EBANX internal data 2020
Chile: The local virtual prepaid card Mach has, alone, 92% of subscription transactions
In Chile, there is a high penetration of electronic payment methods, whether credit, debit, or prepaid cards.
Unlike Brazil and Argentina, where debit card usage for digital purchases is still gaining ground, in Chile, this payment method already accounts an impressive growth year over year.
Prepaid, especially, has been stealing a spot that was previously filled by cash, for the simple fact that these are cards that don't require maintenance costs or commissions for use, in addition to being easy to obtain: it only requires an identity document. One of these local solutions is MACH, a physical and virtual prepaid card with more than 1.5 million users in the country.
1. Source: Americas Market Intelligence
2. Source: MACH
3. Source: EBANX 2021 internal data (last 6 months of payment processing)
Colombia: 25% of the whole share of payments in subscription businesses come from prepaid cards
Although cash is largely used in Colombia, digital transactions keep on rising in the country: Nequi, a digital-only bank owned by Bancolombia, has ended 2019 with 1.8 million users and has currently reached more than 3.8 million as of 2021.
There is a strong movement towards digital wallets with QR code that can be an opportunity for recurring payments, and Nequi is one of the main players enabling this payment method.
Debit cards account for 17% of all online transactions in the country, while prepaid cards play a major role regarding recurring payments: internal data from EBANX shows that this payment method has a 25% share of subscription transactions.

1. Source: Semana (Colombian magazine)
2. Source: Americas Market Intelligence
3. Source: EBANX internal data (last 6 months of payment processing)

To break all the barriers and truly invest in reaching new customers from all over Latin America, the subscription model requires attention to payments and specific market details that can make all the difference in conversion, retention, and an overall seamless experience. Discover how to create the payments experience your customers wants:
E-book: Subscription Billing Best Practices in Latin America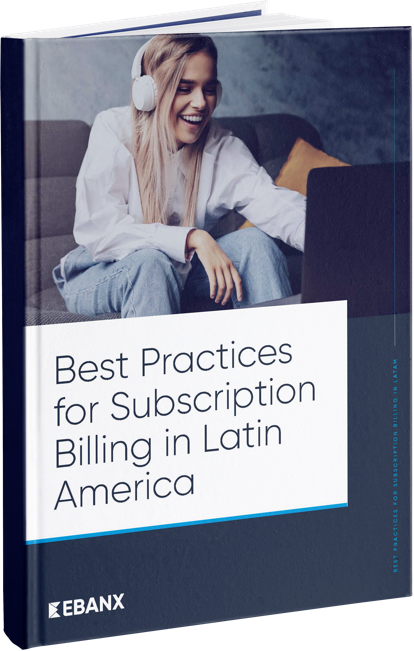 EBANX Retail & Marketplace Solution
It's time to enhance your retail marketplace in Latin America with a tailored approach to payments.