If you are an entrepreneur looking for a new way to sell your products, communicate something about your brand or boost your sales, email marketing is not something new, but is one of the most cost-effective strategies to achieve your goal. As a matter of fact, according to a study by the DMA, every $1 spent has an average $56 return of investment (ROI) – a rise of almost $14 since the previous study. In conclusion, emails are increasingly important for business and it's time for you to pay attention to them.
What is email marketing and what is its importance? 
The practice of sending various types of content via email for a list of subscribers is what defines email marketing. This content can be used to generate website traffic, turn prospects into actual customers, convert one-time buyers into loyal ones and further more.
One thing that it's extremely important is that the email marketing recipient has agreed to receive it. There's nothing more inconvenient than a full inbox with a bunch of unwanted marketing emails.
There are many reasons why you should start your email marketing campaign by now, but here's a few covered by the DMA study:
1. 59% of consumers prefer email as a marketing channel (and it is way in front of any other).
2. ROI is huge ($56 to $1 spent) and it's increasing every year.
3. Indirect effects. DMA affirms that 27% of respondents said that an email would prompt them to go to the company's website and 12% would visit its physical store. A further 9% would check out the brand on social media and 5% would call the organization.
What Makes a good email marketing campaign?
A good marketing campaign is the one that stands out in the middle of busy inboxes. Additionally, content has to be valuable to the person reading it.
When starting to create your email marketing plan, you have to know what you desire to accomplish. DMA shows that the main goals of email marketing campaigns are:
– Sales (62%)
– Engagement (50%)
– Brand Awareness (47%)
– Building loyalty (45%).
If you know what your business needs, it's easier to develop your email marketing strategy because then you know what content you have to send. One-email-fits-all IS NOT A GOOD IDEA. Remember you are communicating with a human being, not an inbox.
Not only that, you should be aware of what your consumer wants. Don't force what your company needs, try to find the mid-term. Segmentation is the best way to solve it. We are in an era of personalization, people know what they want and what they need, and they like to be treated as one – even online.
One thing that sometimes is forgotten is the design of the email. Some people build them around desktop, and some around mobile. People use both, so why not create a responsive design? It's very frustrating when you're on-the-go and receive an email that's interesting to you on your cellphone, and when you open it, the design is terrible because it was made for a computer. A way to solve this problem is through responsive design.
When developing your campaign, ask yourself these questions to help you create a good email marketing strategy:
1. What is my goal with this email campaign?
2. Who is the person reading it? What do they want/need?
3. Is it valuable? Does it bring something new?
4. Is it visually attractive? Does it stand out in a full inbox?
How often does this person want to receive my emails?
Answering these questions, segmenting your clients and having a purpose to your campaign will help you develop a very good strategy.
How to build an email marketing list?
Everyday people are overwhelmed with advertisements everywhere. It's not nice to receive emails from companies you don't know or are not interested. This is why we strongly recommend NOT TO BUY email lists. They are ineffective. If you buy one of these lists and send out emails to them, many of emails are going to be identified as spam. If it doesn't happen, the probability of the email going straight to trash without anyone reading it is very high. Not only that, you'll also have to deal with high unsubscribe rates. Put your effort, and money, into the customers that want to hear from you.
There are many ways to create your own subscribers list, here are some of them:
1. Create a signup button or form on your website. When people are visiting your home page for the first time and it's interesting to them, the possibility of wanting to keep up with your brand is very high. Take advantage of that.
2. Use your social media. Your followers already want to keep in touch with you, so expose this other channel to communicate with them.
3. Offer advantages to new email subscribers, it can help you a lot. People always look for discounts or deals when shopping, so find something exclusive to offer to the subscription customer.
4. Ask for referrals. Word of mouth is still one of the best marketing strategies for every business. If you already have loyal customers, probably they would recommend it to friends and family anyway, but it's nice to offer some advantages if they do so – and it's even good to ask for good reviews also. Offering an incentive can encourage (and engage) even more your satisfied customers.
Different types of email marketing to inspire you
Remember: the email marketing campaign depends on what is your goal with it. It is very important to know what you want to communicate with your audience. Once you know this very well, here are some types to inspire yours:
1. Announcements
This one you probably already know as customer. Yes, the one letting you know that the brand you love is launching a new product or service. But it's not only that. You can let your customers know that your products are going to be for sale for a few days, or a new coupon that they can use. Actually, you can announce anything. But the thing is, this email has to have a particular marketing offer with a call-to-action that links to a landing page made for this particular offer. It can be the landing page to buy the new product, to the store that is on sale or redirecting to where you should use your coupon. Remember that what you're offering is the center of the email, and the CTA (call-to-action) button or link has to be very clear.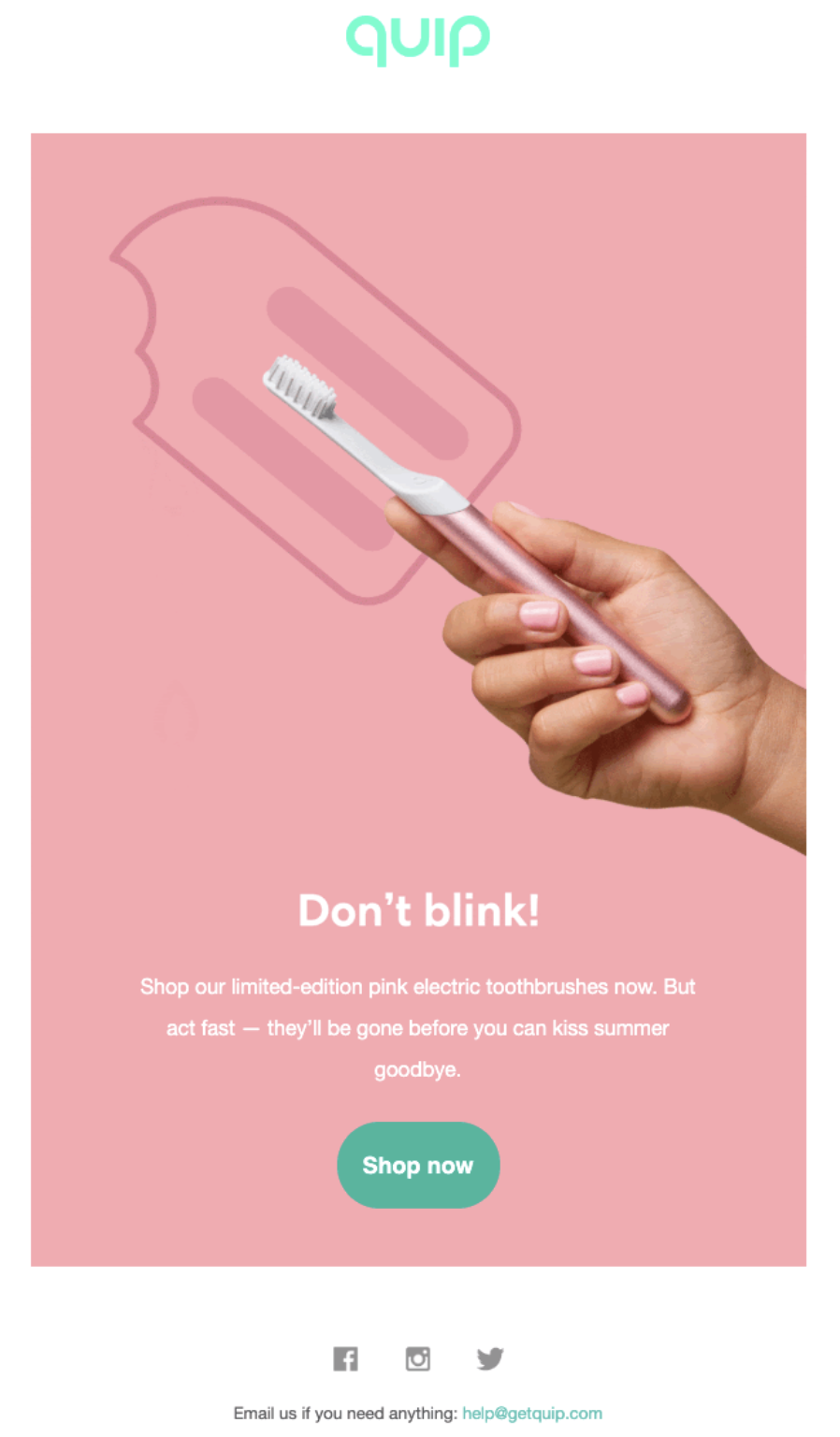 2. Updates
Nothing better than knowing that the product you love is even better. The way you tell your customer that you have improved something can be through email marketing. This way you can engage with your customers and let them know that you've got their backs.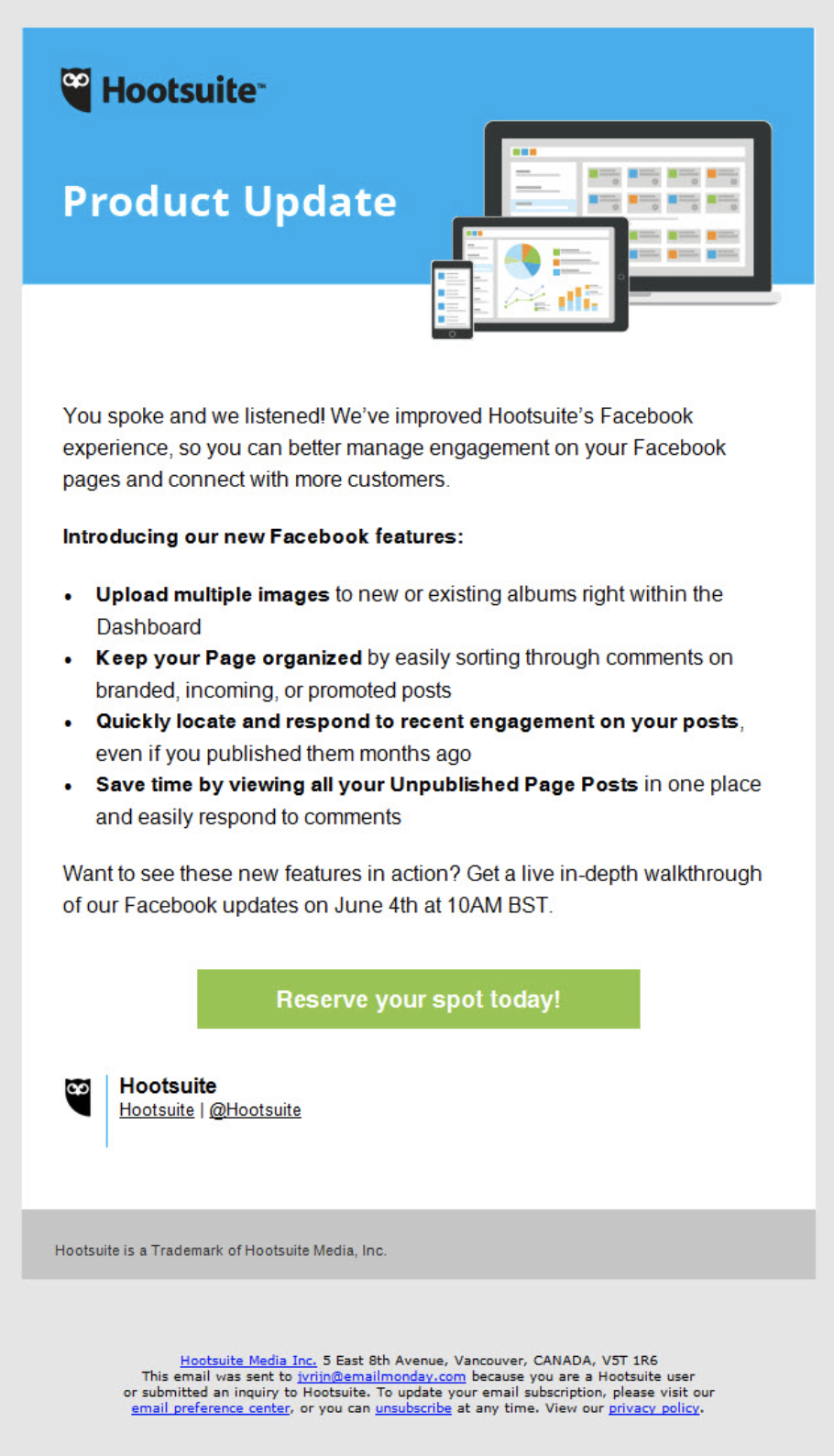 3. Newsletter / Digital Magazine
If your business is a media outlet or a magazine, or if your company has a blog, it's interesting to let people know the new content that it's up on your website. Whether you choose to do this weekly or monthly, think about the design of the email. Images and headlines that get the attention are always very good to bring the readers to you.

4. Rewards
If there's something that any customer loves is something that they can benefit from. For example, if you want referrals for your subscription list, you can giveaway 10% discount for who does it. Or you can simply give a bonus for some special and loyal clients. Everyone loves gifts. It's a very simple and caring way to engage with your customers.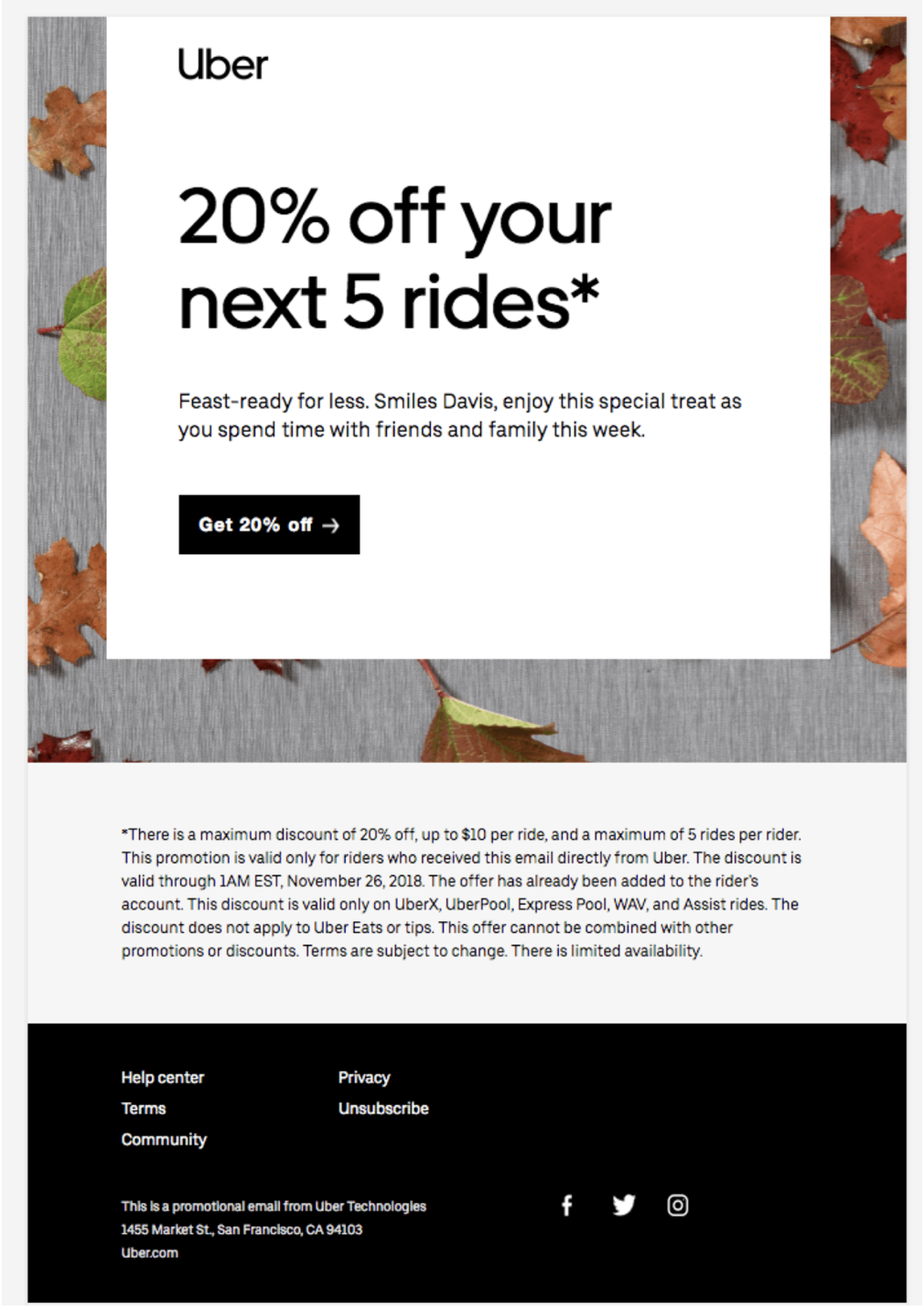 5. Internal Updates
Your customers have to know what's going on with your company. If you changed a phone number, if you have a new email that they can contact, maybe you're updating the Terms of Use or if there's a new website that they can check, it's extremely important to let them know.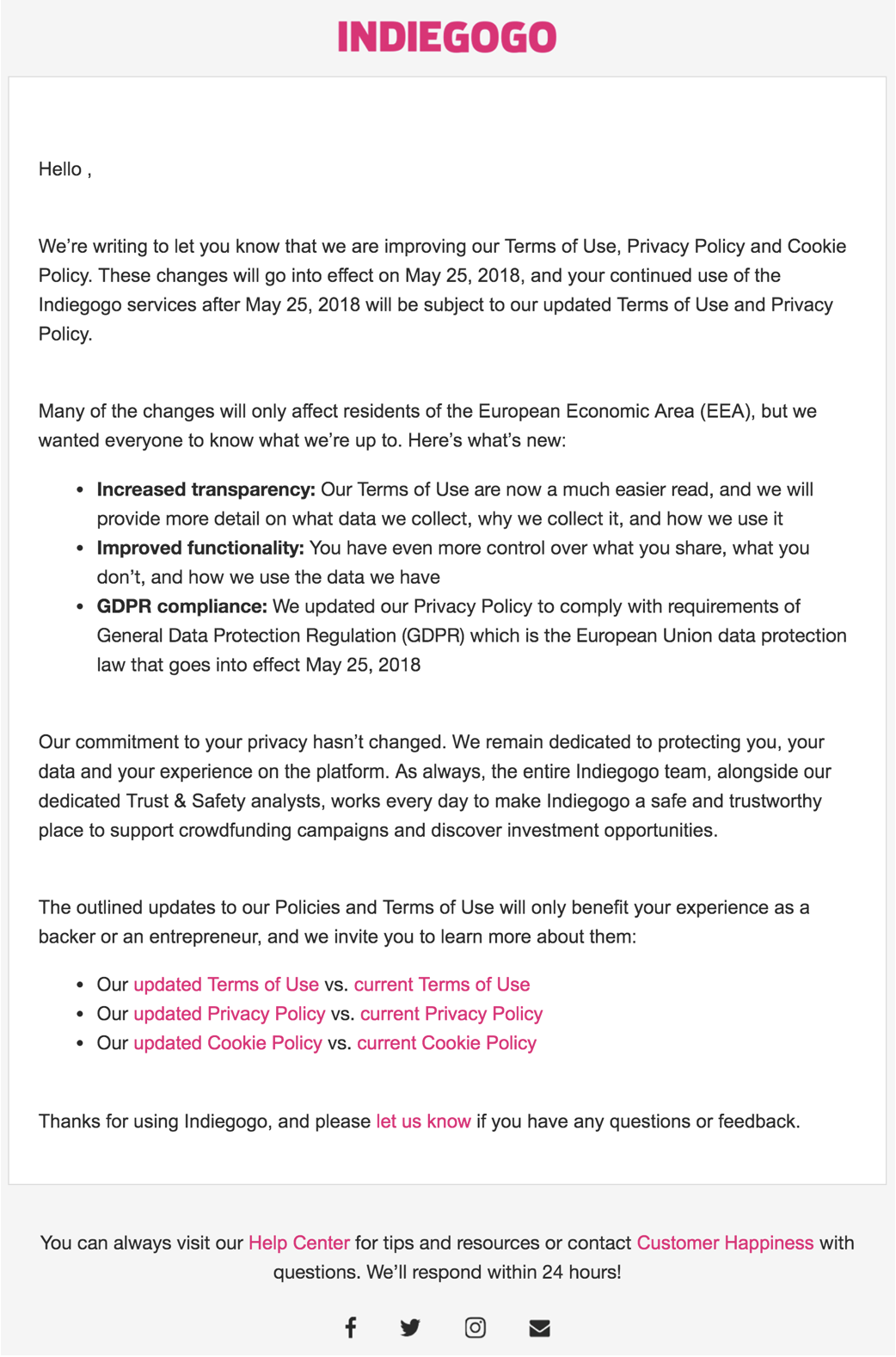 Transactional Emails
If you're not familiar with this term, transactional emails are the ones that are triggered by specific actions. Below are some examples:
6. Welcome
There's nothing more polite than thanking and welcoming your customer into your subscription list. Not only that, it's a perfect way to let them know how is your brand's personality and how is the communication. If you're welcoming new users for your service, it's the moment to let them know how everything works.
Remember, however, to make it simple and straightforward. First impressions are important, specially with a company online. This email can be triggered when a customer subscribes or buys something for the first time.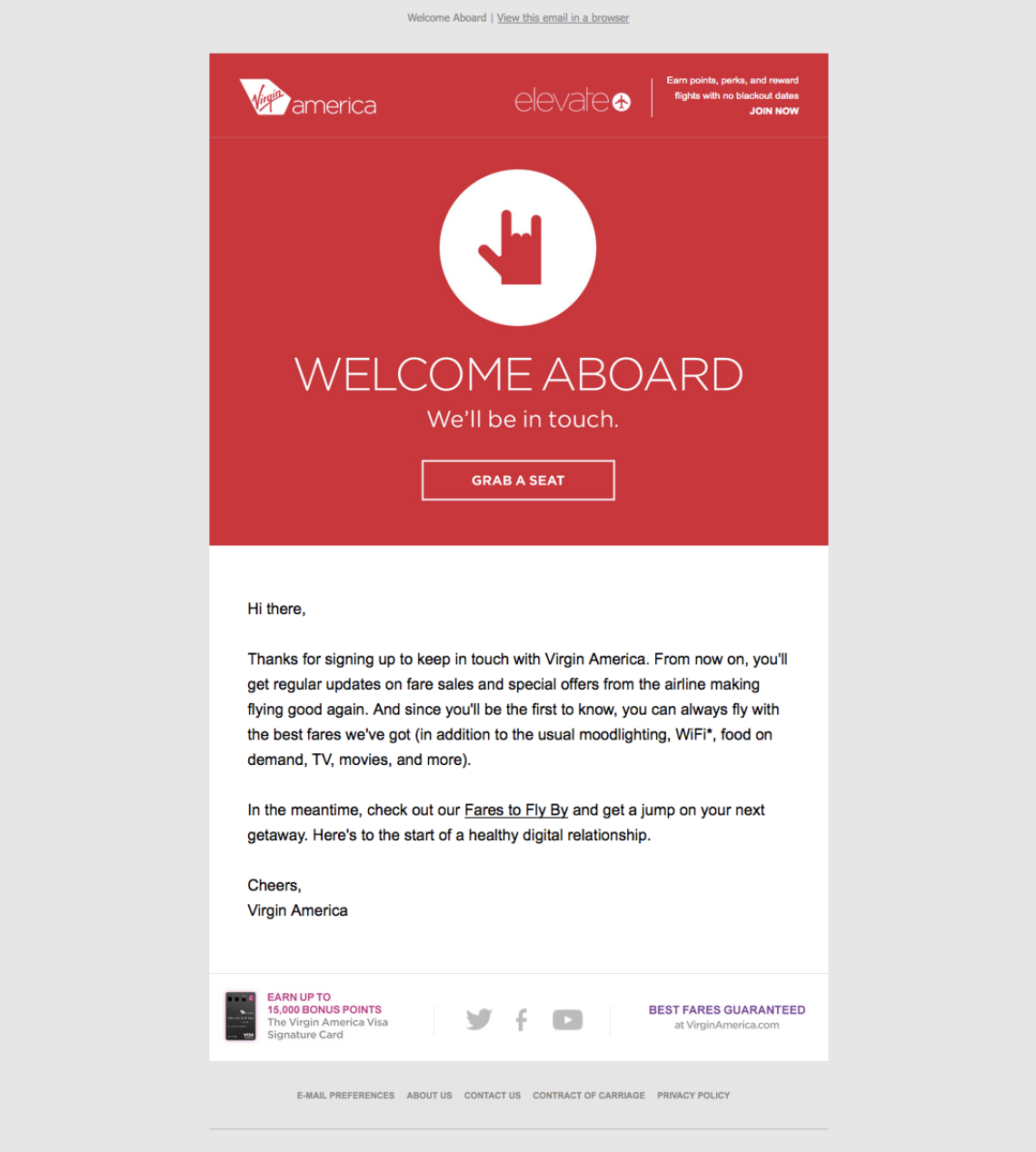 7. Confirmation
When you buy something online, the best way to know if your transaction is completed is when you receive an email. So, this one is triggered when the customer bought something and this is the confirmation that the client has. Here is not the moment, neither the place to put anything else than what it is: a confirmation. Keep it simple and straightforward. If you can, and if it's the case, attach a receipt to it.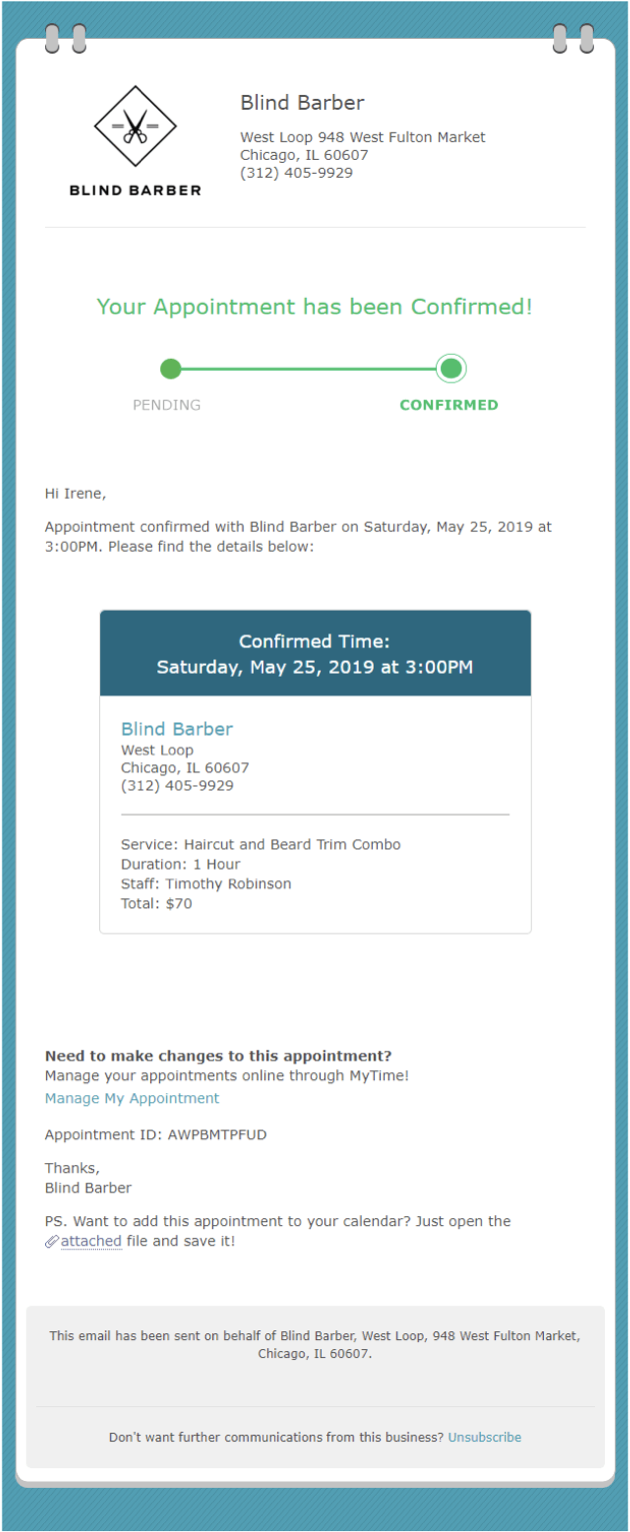 Which email metrics you should need to track
There are three most important metrics that you need to learn about email: open rate, click-through rate and unsubscribes. Let's learn a little bit more about them. Each one tells you something different about your campaign.
1. Open Rate
This metric tells you how many people opened the emails you sent. So basically it shows the interest of your clients, and if they are standing out in their inboxes. In a perfect world, your clients are very excited to read them and open them quickly. If the open rate is low, it means that you have a lot of unengaged subscribers. They are not even opening (or noticing) your emails. Essentially, high open rate? Good. Keep up the good work. Low open rate? Bad. Work harder and try to discover why they're not opening them.
2. Click-Through Rate (CTR)
If the customer opens the email, and it has a CTA (call-to-action) link, the CTR is going to tell you how many people clicked on that. When the CTR is low, probably you're sending the email to the wrong segment of customers, or it means that the interest in your CTA isn't that great.
3. Unsubscribe
This one tells you how many people have clicked on the "unsubscribe" button, usually at the bottom of your email. If the unsubscribe rate is higher than your opt-in rate, you have to pay attention why this is happening and when it's happening. When you have both information it's easier to fix it.
Things to consider when choosing an Email Marketing Platform
Choosing the email marketing platform is one of the most important things to start with. Find the solution that integrates with your Customer Relationship Management Software (CRM) if you have one. If you don't, try to look for the platform that attends most of your needs.
It's very important that the platform provides you at least the three metrics (open rate, click-through rate and unsubscribes) so you can analyze the performance of your campaigns. With more more people using their mobiles to do everyday tasks, reading emails on desktop is becoming each day less popular. There are some platforms that have a functionality to create responsive design or even just mobile-optimized. Remember: if you can read on your cellphone, you can read in your desktop. If you can only read in your desktop, then it's a problem.
Depending of the size of your company and the amount of emails you're going to send and respond, try to find an email marketing platform that will allow you to send automated responses.
Looking for more hints to increase your online business performance? See how Lola Store achieved a163% of sales growth in Brazil!
How EBANX Retail Markeplace solution works
See how our all-in-one payment solution works to boost retail marketplaces in Latin America.