Double 11: The big opportunities for marketers
Let's dive deep into what you need to know about Double 11: the most popular Chinese festival in the country and around the world as well.
This article delves into everything you need to know about Double 11, the most popular Chinese festival in the country and around the world as well. Read on if you would like to learn how you can leverage this festival to drive more sales for your company or brand as you sell to consumers in Latin America.
Double 11: What is it?
Double 11, also popularly referred to as the Single's day, is an unofficial shopping season and holiday that marks a celebration for single individuals and bachelors (who are not married). This day although originated in China, has recently become quite popular in Latin America. What is truly fascinating is that people choose the 11th November date (11/11) to celebrate this Chinese festival since the "1" number bears a resemblance to a bare stick.
In addition, the 4 "1s" in 11/11 is an abstract reference to the single individual's demographic group. What is paradoxical is that this particular Double 11 holiday has become a famous date to mark relationships between 2 individuals. On 11th November, in the year 2011, more than a staggering 4000 couples tied the knot in the city of Beijing. At the time, this number was considerably larger than the standard average of 700 marriage functions each day.
Looking back at the origins of this Chinese festival, a group of students studying at Nanjing University in the early 1990s began this event. As the majority of the Chinese university scholars were not able to find partners for themselves during their academic study, the Double 11 holiday came into existence as a celebration of being single.
Why can this Event be THE Event for Your Company?
There is no denying that the Double 11 Chinese Festival is a golden opportunity for any company to generate a lot of revenue in a brief period of time, especially in the Latin American eCommerce landscape.
This holiday has managed to become the biggest online and physical retail shopping day worldwide. The statistics speak for themselves! As a case to point, shoppers on the Alibaba platform spent more than an extraordinary 84.54 billion dollars during Singles day in China in 2021.
In addition, Latin America have spent heavily as well on eCommerce platforms on Singles day in the last couple of years. Hence, it only serves the best interests of your company to make the most out of this event when selling your brand's products to the Latin American customers on this day.
These are some of the most effective ways your company or brand can benefit the most from the Double 11 event and drive maximum sales and profits by selling to Latin American consumers.
Work on your Product Descriptions to Make them Perfect
Customers in Latin America (like almost anywhere else in the world) tend to be quite skeptical and have a habit of spending a lot of time in what we call the buyer journey's consideration phase. Latin American customers want to ensure they get maximum bang for their buck and are not purchasing a product that ultimately does not meet their expectations.
It is precisely owing to this fact that the majority of the brands (and you should do this as well) who are selling to Latin American customers craft very comprehensive product descriptions on every E-commerce marketplace such as Alibaba. This helps to ensure that the answers to all kinds of queries a potential consumer may have are available. Doing this is even more critical for the Double 11 event in Latin America. Moreover, having such answers readily available when the buyer is about to purchase a product also leads to a greater likelihood of conversion for your company.
Here, it is of paramount importance to compare your competitors' product descriptions with yours to make sure you are not missing out on any trick.
One thing is for certain- when you talk about product descriptions, there is no such thing as superfluous detail in the Latin American eCommerce domain. Having the most detailed product descriptions will go a long way to drive your sales in Latin America during the Double 11 Chinese festival.
Ensuring your Company's Positive Reputation
In case you did not know, prior to buying anything online, Latin American consumers have a habit of doing extensive research. The same holds true for the Double 11 event in this region. In the crucial months just before Double eleven, it is vital that you make sure that your company or online store has a favorable brand image as that would help to build trust among Latin American customers.
Keep in mind that if your brand develops a bad reputation in the Latin American internet and eCommerce landscape, it can considerably and adversely impact your brand's online sales potential during the double eleven event. Hence, it is critical to take the necessary steps to enhance your reviews, ratings, and product mentions across social media platforms, search engines, and of course, in the news.
Collaborating with some dependable Key Opinion Leaders or ensuring some press releases can easily position your brand in a favorable light just before the onset of the Latin American Double 11 event. Plus, it will help avoid any harmful information from dampening your overall sales at this crucial festival.
Double Eleven- Offering Tremendous Opportunities for Modern Marketers
As mentioned above, the Double 11 event has lately expanded into a massive online shopping festival. And today, it happens to be one of the largest online events worldwide, generating several billion dollars in the span of just 24 hours! Such an event offers marketers enormous opportunities to market their brand and product to a massive audience in Latin America and drive their sales by unprecedented margins.
For instance, Double 11 provides some terrific opportunities for many Australian brand marketers to sell in Latin America. Items that have massive demand during this festival in this region include branded accessories and clothing, mobile phones, digital products, personal care, and home electrical. The platforms that people most commonly use are Tmall, Taobao, and Jingdong, with payment methods including online banking, Alipay, credit cards, WeChat, and C.O.D. Double 11's primary targeted market includes those people in Latin America who are technologically savvy, have deep pockets, and fall in the 18-26 years age bracket.
Therefore, these days, marketers have several opportunities to target this Latin American group of people during the Double 11 event and generate more revenue for their respective brands.
Setting up your E-commerce Online Store for Double Eleven
If you have not done so already, it is important that you are fully aware of how to go about setting up your eCommerce online store in anticipation of the Double Eleven event in Latin America.
1. Selecting Ideal product to Sell
The first step in setting up your eCommerce online store for Double 11 in Latin America is finding the ideal product to sell. The right product is pivotal to your store's success during the holiday period.
Keep in mind that "ideal" in this context refers to the product's uniqueness rather than its quality.
When you establish an eCommerce online store to reach out to as many customers as possible during Double 11, you are, in fact competing with several eCommerce platforms and brands like Flip kart, Amazon, and so forth.
It is important to zero in on your particular niche if you want to operate a thriving online eCommerce store and generate maximum sales during the Double 11 period. It means that you need to sell a product that very few other online retailers are selling but has a strong demand in the Latin American market that you are targeting during this particular Chinese festival.
2. Selecting the Best Software Platform
The next step is to pick out a software platform. With a number of eCommerce service providers in the market, you have many options to select an eCommerce software that fulfills the needs of your eCommerce store.
The following are the 3 most common options available in this regard:
1st option: Buying a domain and using an eCommerce platform (open source)
This is an ideal option for those who have fundamental knowledge regarding creating a site and online store. They can then buy a domain name and use the advantages of an open-source platform to create an online eCommerce store with several integrations (built-in). Here we recommend WooCommerce platform.
2nd Option: Buying a domain and engaging services of developers to create your eCommerce store from scratch
This particular option enables you to create an online eCommerce store precisely as per your stipulations, and you have 100 percent control over all the aspects. In addition, you will have the flexibility to develop add-on features and any other extra features when needed. Bear in mind, though, that the chief disadvantage of this option is that it is quite expensive. Hence, you will have to fork out a substantial sum of money to hire professional eCommerce store developers.
3rd Option: Buying an ECommerce Platform
If you are on the lookout for a thorough service regarding creating an online eCommerce store and having full control over it, this is by far the best option you can opt for.
With this option, you will get an optimal solution with a standard or tailored eCommerce platform that aligns with your requirements for the Double 11 event.
3. Choosing a Certain Template that Reflects your Particular Brand
Selecting an appropriate template that reflects the spirit of your brand is the next step in setting up an eCommerce online store for double eleven. To make sure you garner considerable success from your eCommerce business during the Double 11 festival in Latin America, you must build your store to be more appealing in regards to design, layout, and overall feel and look.
Choosing a readymade template may be a great option since such templates are user friendly, clean, easy to customize, and very modern-looking. Just the thing you require to draw Latin American customers to your online store during the double 11 event! 
4. Promoting your eCommerce Store
This is the final stage once you have managed to set up your online eCommerce store for the Double 11 festival.
In this last phase, you need to adopt effectual marketing tactics that include digital marketing tactics to boost your product sales in the region you are targeting during the Double 11 event. Some of the highly effective strategies you can make use of to promote your eCommerce store for the festival involves:
– Online advertising to the local audience in Latin America,
– Blogging,
– And leveraging social media platforms (Facebook, Linkedin, Instagram, Twitter, etc.)
Promoting Your Brand and Generating Sales on Single's Day
The following are a few of the many useful tips you can use and leverage to promote and advertise your particular brand and products to the Latin American consumers on the occasion of Double 11 and generate more revenue as a result.
Leveraging Power of Coupons
It is true that coupons have gained a lot of traction and are very common and famous across almost all eCommerce platforms, including those that are popular in Latin America. However, the practice of making use of coupons goes to a completely different level during the Double 11 event in this particular region. Almost every eCommerce store and product brand generates coupons that customers can utilize to make purchases during this time frame. However, some of the brands have lately been trying out new strategies with a bit of achievement.
For instance, a recent trend that has caught on for the Double 11 Chinese event is various product brands selling coupons for later use instead of issuing them out free of cost. Most of the eCommerce brands sell such coupons to Latin American consumers for a ludicrously low price. Once a potential customer has taken the required steps to buy a coupon, there is a strong likelihood that he or she will actually utilize it and make some purchase from the brand.
This is a very smart tactic that you can employ as well for your brand in order to generate more sales. When you sell coupons that customers can later use for purchase during the Double 11 China holiday, you are in a stronger position to make precise forecasts and predictions for your overall sales volume during the event. That enables you to prepare accordingly, and you have sufficient stock to fulfill the demand of customers.
Regardless of whether you sell coupons or offer them for free of cost, there is no doubt that leveraging the power of coupons is a successful means for brands to generate sales during the auspicious Double 11 event. Moreover, brands are most likely to carry on adopting this strategy in the future Single's days in Latin America as well!
Offer Lucrative Discounts in Return for Pre-Orders
Offering tempting discounts to push customers in Latin America to make pre-orders for your products is another great way you can use to promote your brand and drive more sales during Double Eleven. In fact, this particular strategy happens to be one of the most trending ones for promotion purposes during the Chinese festival.
Online brands often start to display their promotions and discounts for the golden Double eleven event almost 30 days in advance.
As these brands release this information to potential customers considerably early, it is totally understandable that they will start accepting pre-orders. You can support this behavior even further by offering extra discounts to consumers who opt for pre-ordering prior to the beginning of Double 11.
That assists you in locking in your brand's product sales sufficiently early and also helps to estimate your total sales volume. Thus, you can make the necessary preparations, such as finalizing deals with your suppliers, etc.
L'Oreal is a quintessential example of such a brand that successfully made use of this tactic to drive sales during the Double 11 festival. During this event, they allowed customers to deposit cash in advance and get coupons in return, which had more value than the money they deposited. For instance, L'Oreal gave customers 40 RMB to spend on purchasing during the Double 11 festival. These customers deposited 20 RMB initially and received the extra 20 RMB as a "gift."
Those consumers who deposited money in this particular L'Oreal scheme also had the opportunity to nab free gifts via lucky draws. This incentive further encouraged customers to make deposits in advance. You can try this as well to drive more volume of sales during the Double 11 event.
Wrapping it Up
If you are smart about it, you can easily leverage the double 11 event in Latin America to generate the maximum number of sales for your brand's products. Just be sure to do your homework and prepare everything in advance. Hence, you won't fall short in any way during this festival, which is full of opportunities for everyone in the Latin American region!
Get ahead of holiday planning to help you reach more customers and drive online sales in Brazil, Mexico and Colombia.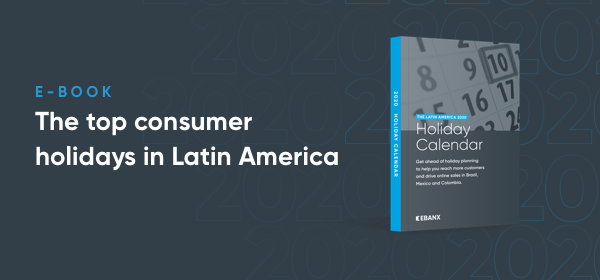 Our annual study is out! Beyond Borders 2022-2023
Beyond Borders 2022-2023: How digital payments and e‑commerce are gaining traction in Latin America