The digital subscription landscape: Latin America's new frontier
Digital subscription services are growing in Latin America, and yet the subscription payment model is still relatively new.
Across Latin America as the digital movement continues to scale and rage on, the subscription model has gained traction in tandem. More of the population has access to the Internet than ever before, spending on digital goods and services is climbing steadily year over year, and the interest in subscription based products are becoming increasingly more relevant.
This model has been adopted in a variety of both digital and physical verticals. From movies, tv and music, to accounting software, calendar tools, to clothing rentals and more. The concept of being able to pay a low monthly fee to gain access to a library of films or songs, or access to collaborate with multiple people all at once, without having to own it in physical form has been one that is quickly adopted around the world. What is the state of subscription across Latin America and what should brands looking to do business in Latin America look to take into consideration?
Interested in learning more about EBANX and our recurring payments solution? Check out our solution and download the white paper, and get in touch with us to get started today.
Gaining traction in a newly digital region
Internet adoption is increasing year over year across every country in Latin America. According to WorldBank, 70% of Latin Americans have Internet access. This is only expected to grow, and new consumer habits will emerge as a domino effect, from how customers look to shop to how they seek to pay. While Latin America is not always first to have new digital products launch in their market or for global brands to expand to, their adoption and innovation rates are faster than any other market.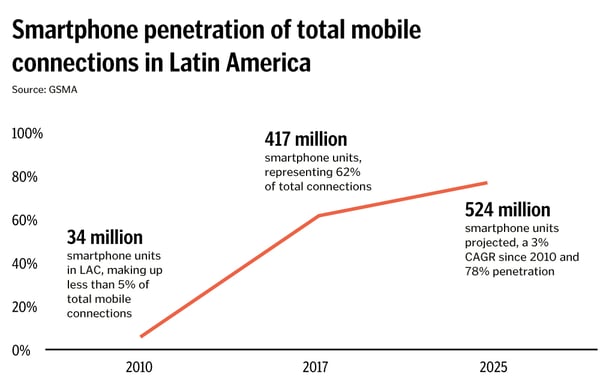 The concept of having access to millions of products with a click of a button or swipe of a screen continues to propel the demand for digital goods, like streaming, gaming, and SaaS, across the region. For brands that have closely taken notice of this digital evolution, they have been quick to recognize the opportunity to engage a new type of consumer eager to gain access to global products.
International brands have the most clout
Subscription services like Netflix, Amazon, and Spotify have paved the way for other brands looking to successfully navigate how to make subscription work across Latin America. As the early adopters of the digital revolution, they recognized the potential and power of the region and the foreshadowing of momentum of digital adoption.
Entering the market early with limited competition, has its advantages when it comes to the consumer conversion. In the annual Beyond Borders study, when asked which international brands are Brazilians using or have heard of before, streaming and subscription brands ranked at the top. Over 91% of Brazilian consumers have heard of Netflix and 67% have used it in the last 12 months. Amazon 78% have heard of it, but only 18% have used it in the last year. This shows the power of brand awareness in the region. Latin American consumers are plugged into the brands and services that are popular across the world, making it that much easier for brands to make their move here.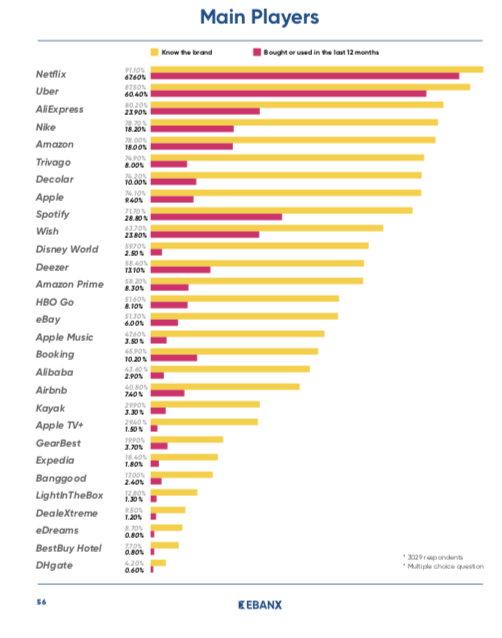 What does this imply? The global digital brands that are investing the time and resources to grow in the region are seeing rapid adoption and retention among Latin American customers.
As Brazil, Mexico, Colombia and Argentina continue to show the demand for the product and services of international brands the market is poised for and primed for these to have a bigger presence.
Growth and expectations for each vertical
Across every digital vertical subscription revenue is growing. Since the COVID-19 pandemic began in March subscription purchases have increased 31.5%. Here's a breakdown of the state of subscription in each vertical.
Streaming
Streaming adoption is picking up at rapid rates. According to the Ampere Analysis Consumer Panel, as of Q1 2020 the Brazilian consumers have 2.4 video subscriptions, while Mexican consumers subscriber to 2.6 streaming services. This has doubled in the last two years.
As subscriber numbers heat up so does the overall video streaming market in the region. According to Digital TV Research, 5 streaming services will have 88% of the market share across the region. The competition to gain traction in the streaming landscape is only continuing to heat up with news of HBO Max and Disney+ prioritizing LatAm expansion for 2021. For those looking to enter the market urgency is truly key, as the streaming wars in the region are only just beginning to heat up.
When it comes to music streaming 64% of Latin Americans have a streaming account. 46% of Brazilians, 28% of Mexicans, and 15% of Colombians have a paid music account. Latin America is now one of Spotify's largest subscriber markets, growing 36% from Q1 2019 to Q1 2020.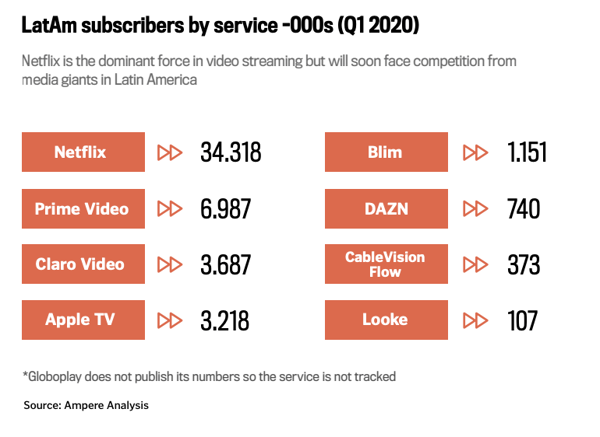 Gaming
Latin America is one of the largest gaming markets in the world with over 266 million players. Data from a 2021 Newzoo study shows that Latin America (LATAM) is already the fastest growing region for gaming in the world. As consumers in the region continue to move away from the need to have physical media, digital purchasing for online gaming is becoming the primary source of revenue for gaming companies.
SaaS
Over the last 10 years Latin America has quickly emerged as a technology market to take notice of. Companies like Nubank, Rappi, and EBANX have gained global recognition and the coveted Unicorn valuation. There are several factors indicating that this is just the beginning and we can expect more from this vertical in the next few years. Including an increase in demand for saas and business tools that help companies to truly thrive.
For businesses around the region, saas adoption has increased 31.5% during the quarantine period as a result of the pandemic. 43% of small and medium sized businesses in Brazil say that they purchased new Saas tools to make it easier for their teams to work remotely.
What does this mean? It's time for global companies to recognize that beyond consumers, Latin America is a region prospering and providing business opportunities. The adoption of tools like Salesforce, Hubspot, Slack and Squarespace are likely to be in more demand in the coming years.
Lifestyle apps
People across the world have had to adapt their daily lives to the new normal of living and working from home. As a result lifestyle apps, or tools that have made everyday life a little easier. This is especially relevant for fitness, dating, and delivery service apps. As a result of the quarantine, app revenue in Brazil and Mexico has increased by 65% and 50%, respectively. As the physical locations of gyms are closed, digital platforms look to give way to online workouts that users can pay a monthly fee for. With a paid subscription countless other lifestyle apps and tools allow you to navigate the experience without the interruption of ads or usage limitations.
The subscription user profile
Subscription services have been able to take the market by storm due in part to the Latin American consumer's rapid adoption of these products. While markets like the US and Europe are high priority markets for expansion efforts, Latin American consumers have patiently waited for these digital products to be made available.
When it comes to devices of choice, Latin Americans are digitally fluid. 40% of Brazilian consumers use both a mobile device and computer to use the Internet. However, mobile usage reigns as the primary preference of digital users. 33% of Brazilians say that they access their more than 50 times a day. This is important to keep in mind structuring online shopping experience, subscription billing, and payment processing for your products.
Taking it a step further, when it comes to the average subscription model consumer in Latin America, what can global brands expect? t begs the question of what is the threshold for subscription products for Latin American consumers and how much are they willing to pay to have access to the digital services that enhance their lives? While the subscription model is still new to the region here's what we know so far:
– 82% of subscription purchases in Brazil were made with credit cards
– 70% of Latin American consumers made an in-app purchase in the last 6 months, according to AMI
– 30% of Brazilian and Mexican consumers report pre-paying for digital services, of that 30% prefer to be charged monthly, with another 30% prefer paying for a year up front with a discounted price.
When it comes to what keeps these consumers purchasing with large subscription brands, 58% say cost benefit, 43% look for the ability to pay in multiple ways, and 30% say it's the ability to pay for their purchases in installments. Flexibility and value is truly key for the Latin American subscription consumers.
For many consumers, services that require subscription payments are viewed as another monthly bill. For that reason, it's important to understand when Latin Americans from each country are paid, when they look to pay their bills, and when they prefer to be billed for the digital subscriptions they use. For example in Brazil, pay day is the first of the month and only once a month, with the exception of December when it is twice a month.
Challenges for brands to navigate
The subscription model has been met with its fair share of challenges. It's important to remember that this is still a new digital transaction that is being adopted throughout the region. For brands that are looking to reach this consumer group and charge subscription fees, keeping these friction points top of mind can set you ahead of the competition.
Subscriber Retention
Latin American consumers are fond of freemium models…..but that doesn't always result in paid subscribers. Free trials are a reliable marketing promotion that has successfully intrigued and convinced customers to try out a new service, at a low risk. Depending on the type of product it can be defined by days, data space, or user accounts. It's a great way to give subscribers the opportunity to try the service before they buy, and inform whether or not they want to pay for it. The challenge lies in . Sometimes it's not enough to simply remove ads or provide an upgrade to user access or digital MB available. To retain subscribers that are new to your service you will have to show the ongoing value of your product from the beginning and remove all barriers that could potentially deter this customer from selecting the dreaded "cancel" button.
Payments
The bulk of subscription services from streaming, gaming, to Saas, rely on credit card as the preferred payment method of their customers. For international markets, to pay with credit on a recurring basis requires that the card have international payment capabilities. In Latin America this is an immense challenge. Only 20% of Latin Americans have an international credit, and yet over 40% say they prefer to pay with credit card. The key here is to focus in on offering local payment methods.
Latin America is an incredibly diverse market and their payment landscape is no exception. There are over 100+ different payment methods that are used every day across the region, and what is used varies from country to country. Being able to accept local credit cards in Brazil, or cash vouchers payments in Mexico, can be an important differentiator for subscription brands that have been slow to adopt any localized measures when it comes to payments and checkout.
However online payment methods like Paypal and Apple Pay aren't nearly as adopted as they are in other parts of the world.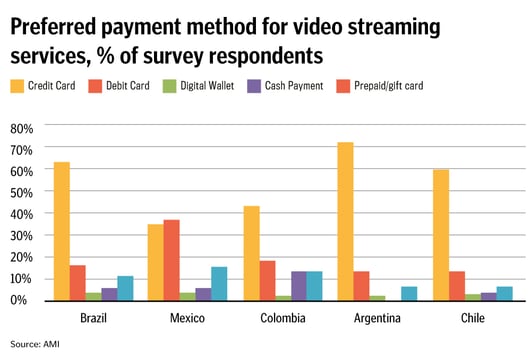 Charging in local currency
The primary billing model for subscription services is a recurring one that breaks down a cost over time into monthly payments. Like any consumer, Latin Americans love when purchases can flexibly fit their budget, making the recurring model attractive to this consumer. However, where many streaming entities are getting it wrong is by charging their Latin American customers in USD. While a $9.99 monthly cost may look the same to you, the cost of the subscription will fluctuate based on the value of each country's currency. This is incredibly unattractive for any consumer, and increases the risk of churn.
According to our Beyond Borders research conducted in 2019, 54% of Brazilian consumers say that they won't pay for digital services like Netflix, Deezer or Spotify if it is charged in USD. It's imperative that subscription brands, leveraging a recurring billing model take note of this and implement the resources required to make local charging possible.
The time for subscription is now
As the rest of the world continues to increase the amount of digital services they use day in and day out, Latin America is rapidly following suit. The brands that identify what investing in truly bringing their products to the region in the right way will be the first to reach customers eager for digital products, and set the standard for subscription-based services in the region. The time is now.
Interested in learning more about EBANX and our recurring payments solution? Check out our solution and download the white paper, and get in touch with us to get started today.
Our annual study is out! Beyond Borders 2022-2023
Beyond Borders 2022-2023: How digital payments and e‑commerce are gaining traction in Latin America