5 inventory management strategies for e-commerce
Inventory management is crucial for financial control of any e-commerce business. Here you will find 5 tips of how to optimize it in your business.
Inventory management is an essential part of the financial control of any e-commerce business. It is the so called active capital of the company, meaning that inventory is synonymous with money. In other words, the way you manage your stock must be cost efficient and bring profit to your business.
Imagine it is Black Friday and your e-commerce hits the jackpot. Customer from all over the world accessed your website and completed purchases. But, when you start the process of sending the products to the customers, you find out that there are not enough items in stock to meet the demand.
Besides frustrating the customer who is already expecting to receive the product, there is the whole reverse logistics situation. You may incur losses with refunds and bank fees. Final result: financial loss.
But, how can you avoid this?
What is Inventory Management
Before entering the practical part, it is worth remembering the concept of inventory management.
From accounting point of view, inventory is the set of tangible goods stored for sale or production of goods by the company. In the case of e-commerce, those are the products that you sell.
The physical and financial management of the stock is intended to inform both quantity of items and its monetary value, as storage represents approximately 60% of the maintenance costs of a business.
Monitoring these factors allows you to know the minimum amount of items needed to meet consumer demand without losing any sales. At the same time, it prevents overstock, which could compromise your revenues due to capital bound and storage space.
Why is Stock Management important
Sure, experience might tell you more or less how many products you should have in stock. Yet, precise tracking of incoming/outgoing goods makes your store more competitive and profitable.
By having full control over the warehouse you:
– avoid unnecessary purchases, protecting the company's money flow.
– free up space for more relevant products, favoring sales and profitability.
When you have a stock management software, or even an Excel sheet, you are able to track the orders month by month thus knowing the real needs of your shop. This leads to conscious purchasing and less costs for your online store.
The logistics of your e-commerce business is also made easier when you manage this part well. When you reduce the number of stored products, organizing goods and separating orders to send to consumers gets easier. So, you gain agility in deliveries (lead time) and improve customer satisfaction.
Good stock management also brings more clearance to your financial control, since you have all the goods' information at hand. All this allows your online store to run more fluidly in every logistics process.
Finally, by investing in inventory control for your e-commerce, you are avoiding financial loss due to lack of goods for delivery. Remember our initial example?
An angry consumer replicates dissatisfaction to many others, impacting your e-commerce. From this perspective, you should worry not only with financial loss but also with your online stores reputation.
Setting up a top-notch inventory management strategy
Now that you already know the basics of stock management and the importance of doing it well, let's see how it can be done.
1. Hire a stock controller
Having a person (or company) dedicated to inventory management can make your life a lot easier. After all, as an e-commerce owner you might have many other responsibilities. Depending on the complexity of your operation, setting up a team to manage and operate your inventory is the best way to keep your customers happy and your online store profitable.
2. Get a stock management software
You can find several e-commerce control worksheets on the internet. But, spreadsheets can give your team a hard time, since all data insertion is done manually.
The more agile and automated your e-commerce is, the more competitive it becomes. For that reason, consider investing in a stock management software. You can integrate it into your sales platform and track only the reports, leaving the operational part behind.
3. Define an inventory management method
There are several ways to do a proper inventory management and achieve greater efficiency in your e-commerce:
Just in Time Inventory Method:
instead of acquiring stock before your sales strategy, you go the other way, analyzing consumer demand and acquiring the right quantity of products.
ABC Curve Inventory Method:
it consists of a stock classification method, where:
– A products, of major importance, correspond to 20% of the inventory
– B products, of average importance, correspond to 30%
– and C products, of low importance, correspond to 50%
FIFO Inventory Method:
it consists of a storage method in which the newer products are always allocated behind the older ones, so that the oldest products are sold first. This avoids expired waste and deadlines.
Dropshipping:
it consists in keeping your inventory outsourced, so when the customer make a purchase, you trigger your supplier to deliver the goods. This method is quite attractive from a financial point of view.
Read also: How to start a dropshipping business
4. Negotiate with suppliers
Negotiating more frequent deliveries with suppliers can be a good way to reduce the quantity of stored goods, favoring the management of inventory in e-commerce.
In the rush to get quantity discounts, we often forget to calculate the maintenance costs of stationary stock, which is a serious mistake. In this sense, calculate your storage costs and check if the discounts provided by your business partners are worth it, analyzing which is the best option for your virtual store: to buy large quantities and bear inventory costs or to reduce purchases and have higher turnover of goods.
5. Monitor your goods
Financial costs caused by delivery delays, not to mention image damages due to consumer dissatisfaction, can be reduced if you carry out the tracking of goods.
Radio Frequency Identification (RFID) tags are a good solution for this. They allow you to monitor all the goods purchased, from the moment they arrive at your inventory until they are delivered to the final consumer.
This measure is especially recommended for those who run an international e-commerce business. Despite ensuring greater security for sold products, tracking also keeps your consumer informed about the delivery process, increasing the reliability of your shop among customers.
Find information and insights about Latin America, its e-commerce market, and the main payment trends. Download now and get to know this market full of opportunities.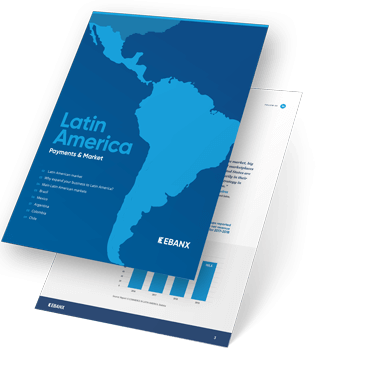 Our annual study is out! Beyond Borders 2022-2023
Beyond Borders 2022-2023: How digital payments and e‑commerce are gaining traction in Latin America